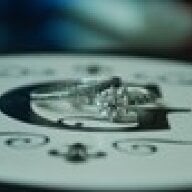 Joined

Oct 5, 2008
Messages

153
My husband and I will have been together (not married) for 5 years next month. So I thought of getting him something special, like a money clip or a business card holder and getting it engraved. I was initially thinking of getting it at Coach, but the only store here in Jakarta didn''t have any, my next thought was Tiffany.

A few days ago I went into the store and saw a few things that I liked (they only carried one type of business card holder and a couple of different money clips). I asked how much they were. The salesman went into the back room and came out with a calculator. He told me the prices and then proceeded to say that those things (all things in that particular window) were on sale at %40 off and giving me those prices!!! I''ve never heard of Tiffany having sales and thought that it was really weird that that particular store did. Also, things that I looked at seemed to be quite overpriced, especially the money clip (it was over $300 before the "discount"). Card holder was about the same price listed on the US site, so after the discount it would actually be a pretty good deal.

So I am wondering if that was just a sales technique (raising the original price and then offering the discount) or it is something that Tiffany really offers. Has anyone ever dealt with/encountered something like that? I am quite puzzled by the whole experience.