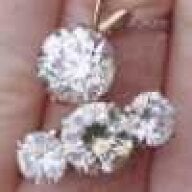 Joined

Jun 3, 2008
Messages

123
So Monday I had my 2nd dress fitting and Tuesday I had my hair trial. Pics to follow for your comments
The 2nd dress fitting was ok, but I was having an issue with the top being too big still on top. He said that he didn''t want to pull it in anymore on the sides because then it would start pinching into my skin and make me look like I had arm/chest fat... which I don''t think I do. He suggested that I go out and get a corset/bra that would provide me more lift to fill the cup area. So I went everywhere and finally think I found one at Fredericks that goes low enough. Did anyone else have the low back dress issue? Where else could I find a bra that would work? I am worried that the one I got may not be low enough.
I will say that the only thing I am bummed about is that I don''t think the dress really makes me look/feel thin
I felt like it was adding bulk to me and I have been working so hard doing the 30 day shred and have totally toned up. He said that because of the way the dress is cut in the back and the arch I have in my lower back that this is about as tight as it will be... unless I want a back butt lol. I wanted to feel super thin on my wedding day, but I guess I will just have to get over that. At least this means NO needing to lose weight in the next three weeks... I can EAT!
He also didn''t make the neckline enough of a sweetheart so he is going to fix that too. I go back on Friday for the 3rd fitting. I only have two pics but what do you think so far? Oh and the bustle is very messy looking in the pics... I didn''t get one after he asjusted it.
The Hair Trial - I thought it went great. She didn''t do it 100% of how it will look the day of, but she just wanted to give me the idea. I wanted soft & romantic with some hair height on the top. Did I achieve that look? Do you thnk it will go with the dress style I have?
Thanks for your comments