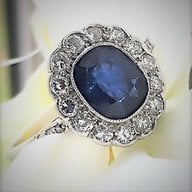 Joined

Apr 24, 2016
Messages

883
I don't know if I should post this in here or the brides worldwide forum... but as it's not finalised yet it can go in here.
We've been together for 8 years, engaged for almost 2.
I've told him that 2019 is going to be our year.
He wants to get married in Las Vegas.
When I went there for my friend's hen party/bachelorette in 2016 I fell in love with the Bellagio as a venue.
I told him it can be the Easter break, May half term or October half term (it will probably be too hot in the school 6 weeks holiday). I would have to take unpaid leave to get married in term time, but he has suggested December 7th because that's the date we met. I would've preferred it to be earlier rather than that late in the year but if it has to be...
He needs to get a new job first, and we need to buy a new house and move. Moving house has always been a priority so we can be nearer to my parents, my work and my son's school. We started looking 2 years ago but then he decided he wasn't happy in his work so quit. His previous employer wasn't good to him so I was happy for him to leave, but we didn't expect him to be unemployed for so long. He did save up to tide himself over and he has been doing some casual computer related jobs and selling some old parts so he had a bit of an income. It could take a few months before we can move. Our deposit is tied up in an investment that we will know about in 6 weeks.
My mum offered to help, but he won't accept anything from them because travelling to Vegas is enough to ask of them.
I'm going to look at wedding dresses next week, there is one small brand that I really like and their head office is near to where his mum lives. We are visiting after New Year so I can kill 2 birds with one stone.

I'm just so impatient, I want to sort everything out now while I'm on holiday from work!

I do get a bit obsessed so I need to rein myself in a bit. I'll try to keep myself busy.