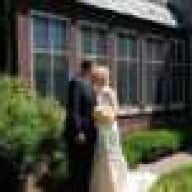 Joined

Jul 20, 2007
Messages

699
Okay here is the scenario of what was happening:

I am in a fabric store w/ my niece. We are standing at the counter with my wedding dress and one bridesmaids dress layed out on the counter with the zipper to the bag unzipped so they are kind of out and in at the same time. My niece has some fabric draped over my arm. We are looking at fabric to make a shrug to go w/my dress. I am looking at my niece and talking to her as she is draping fabric over my arm and my left hip is leaned against the counter.
I hear the sale clerk say. You need to move because we need the counter. I turn back to the counter and she had taken the garment bag w/my dress''s in it and folded it over and slid it down. When I looked at it, it looked like it was in a heap! My knee jerk reaction was not good. I ummmmmmmmm loudly told her.
"if you would have just asked me...I would have moved it" Than I picked up my dress''s and as I walked away, I again loudly said. "I guess you only get the nice treatment when your getting your fabric cut what a crab"
WTH????? where did that come from?? Okay so how she tossed my dress so to speak still pisses me off, but I feel so bad the way I handled it that I feel like a jerk...total bridezilla moment.