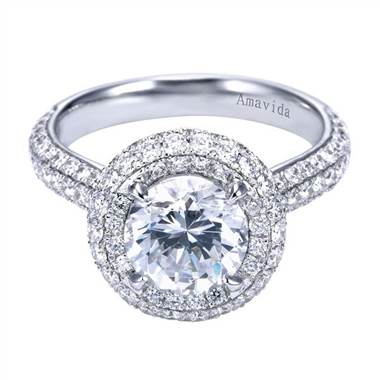 Halo 18K white gold setting

at I.D.Jewelry
Valentine's Day has come and gone and we have plenty of soon-to-be brides on the horizon! Many excited couples have already begun planning their weddings. Yet, did you know that many brides have become engaged without an engagement ring? Yes! It has become common practice these days for couples to become engaged THEN look for the ring because no one wants to propose with the wrong ring.
You read that right! Long gone are the days when brides had to hope that her engagement ring was something that she loved. Now, prospective brides are able to have their cake and eat it too.
Thus, if you've just popped the question or are still planning to pop the question, come here for a quick guide to help you find the ring of her dreams, all you need to know is her dream wedding dress silhouette and you're in! *Hint, look through her Pinterest or wedding magazines for dress styles that she loves.
Dream Wedding Dress: A-Line
If your bride is obsessed with classic A-line wedding dresses then she's definitely an all-American woman. A-line dresses are for prospective brides who love Ralph Lauren, loafers and timeless style. Make her engagement ring one which will be able to become a family heirloom, and stay on trend, by opting for the new American classic of a round diamond in a halo setting as shown above.
Dream Wedding Dress: Sheath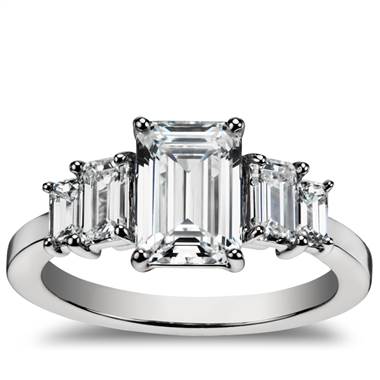 Four stone emerald diamond engagement ring in a platinum setting

at Blue Nile
If your bride still has dreams of Carolyn Bessette Kennedy's Narcisco Rodriguez wedding dress, then fret over her engagement ring no more because you have a modern bride on your hands. She loves sleek, chic and elegant looks. Which means, she will love you and her engagement ring forever if you place this fancy cut emerald diamond engagement ring on the only finger that matters.
Dream Wedding Dress: Ballgown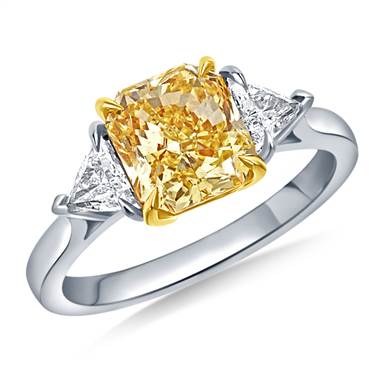 Fancy intense yellow radiant three stone ring with trillion in platinum and 18K yellow gold setting

at B2C Jewels
Brides which choose ballgowns are the princesses of the bridal world and they will accept nothing but the best in engagement rings. You're going to have a big, beautiful wedding worthy of any Grimm's fairy tale and she requires a ring which would make mere mortals quiver in their Louboutins. This fancy yellow engagement ring has everything any princess could ever want.
Dream Wedding Dress: Fit and Flare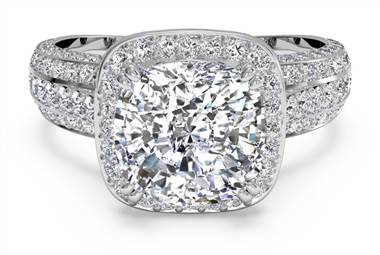 Masterwork cushion halo triple diamond band engagement ring

at Ritani
Does your lady love fit and flare wedding dresses? Well we bet she's the life of the party. Brides which opt for this silhouette want to ensure that your guests can get up and shake a tailfeather and she wants to be able to get out there and do the same with your wedding guests! Bring on the bling for a ring that will definitely be the center of attention at any gathering.
Whew, doesn't that take a load off your shoulders? Now you'll be able to give her the brilliant diamond engagement ring of her dreams with your eyes closed. We can assure you, this will be a day she will never forget and happy engagement!

By PS Staff