Turquoise Image posted by Ilovegemstones
We wanted to turn our focus to one of the most beloved gems that is heavily featured in jewelry from the Southwestern US. Many cultures revere this gemstone and we wanted to take a look at different features of the stone! What is your favorite way to wear this gem?
Southwest Turquoise History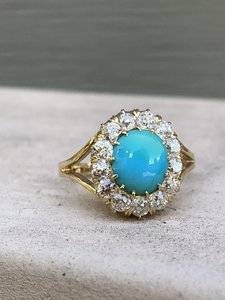 Turquoise pin conversion – posted by eh613c image
One can't mention turquoise's history in the Southwest without mentioning Native Americans. This gemstone is highly revered among the Southwest native tribes for representing being one with the earth. Apachi and Navajo lore states that there is a goddess named Estsanatlehi who originated from a piece of turquoise and now adorns herself with the revered stone. You will still find many young children wearing this stone to honor her at their coming-of-age ceremonies. The Navajo believe that turquoise is imbued with the powers  to protect the wearer and help maintain their good health.
Universally Loved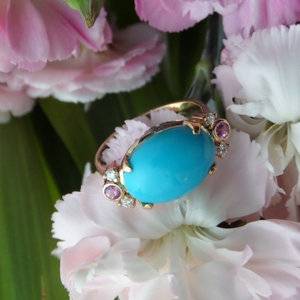 Persian turquoise ring set in 18K yellow gold – posted by marymm

Turquoise is one of the earliest gemstones to have ever been mined which may be one of the reasons it is beloved in cultures throughout the globe as well as throughout centuries. The stone is also very easy to work with, therefore you can find a plethora of turquoise jewelry which suits a variety of styles. If the past 1,000 or so years tells us, you will not be out of style wearing this gemstone anywhere.
High-Quality Right in in the USA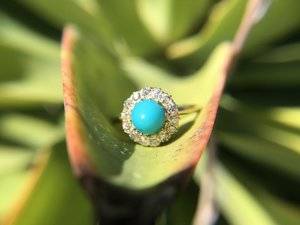 Stickpin conversion – posted by JPie

Although this gem is found throughout the world, the United States is known for having the best turquoise mines in the world. This means that it is safe to say that you don't need a passport to purchase high-quality turquoise. Indeed, some of the luxury jewelry designers, such as Harry Winston, have used this gem mined in the United States for their own pieces.
Turquoise is a splendid gemstone that is worth its weight in gold. If you are looking for a piece to own which has a deep meaning, is beautiful and made in America, then look no further than the beautiful turquoise. What is your favorite way to wear this gem, come let us know in the PS forums!

By PS Staff