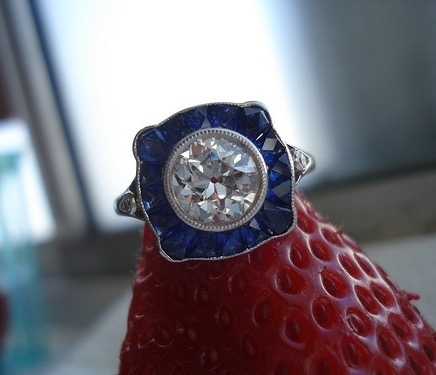 Single Stone OEC with Sapphire Halo
GG414 shared her gorgeous Engagement Ring with us in the Show Me the Bling community! The deep blue halo makes that diamond look so stunningly white! I just love that contrast! Engagement rings can be as unique as the relationship it signifies, and sometimes a less traditional ring serves to carry your personal story better.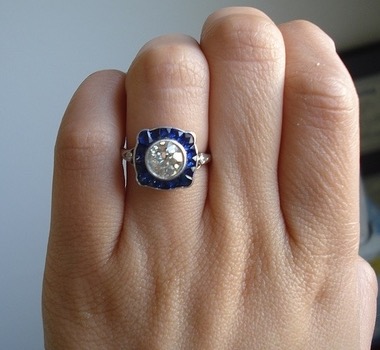 Looks like a YES!
GG414 wasn't looking for this ring, she wasn't even looking for sapphires; when you find the one though you sometimes just know it! Going in with the intention of creating a custom ring with Single Stone she found this dazzling beauty awaiting her in the showroom. It seems like fate was on her side and the ring that she didn't know she needed found it's way to her. The detail work in the gallery is fantastic and such an awesome surprise under an already phenomenal piece, I love that! I hope that this stunner has been worn in health and happiness for many years now, GG414!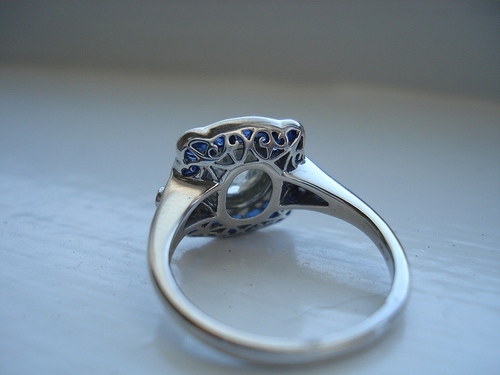 Gallery Detail
The Stats:
Center Stone:
1.14 ctw OEC
VS-1
I/J-Color
Halo:
2+ ct of sapphires<
Ring Size: 5.25
To read the entire post with more pics, click here
On Throwback Thursdays, we take the opportunity to re-appreciate beautiful pieces that have been shared over the years!
Thank you so much for sharing your jewelry experiences with us. Keep revisiting PriceScope's past with us each Thursday!
PriceScope members share Proposal ideas; get inspired and/or share your own here.
Halos can enhance a center stone marvelously, learn more here.
#TBT