By Erika W.
Hankering for some jewelry…and quickly? On May 5th, Richline Group debuted a jewelry kiosk at the Berkshire Hathaway shareholders expo in Omaha. The "Precious Express" kiosk looks like an ATM and vending machine hybrid, dispensing jewelry, gold coins, and other items from Borsheims, which is owned by the holding company. Using a large touch screen, customers can browse for jewelry and product information and then make a quick purchase. The machine dispenses jewelry on the spot and holds up to 72 different items. Richline's chief marketing officer, Mark Hanna, said the company will begin to distribute the kiosk this fall and that the machines are ideal for retail stores, hotels, and airports.
The kiosks are similar to Gitanjali's jewelry ATM machines that were introduced last fall. The machines, with their touch screens and easy payments, provide something akin to the online shopping experience, but with instant gratification–no worries about packages lost in the mail or time constraints to get a gift delivered by Valentine's or Mother's Day. But, what happens if a piece gets stuck in the machine? We hope an attendant might be standing by…just in case.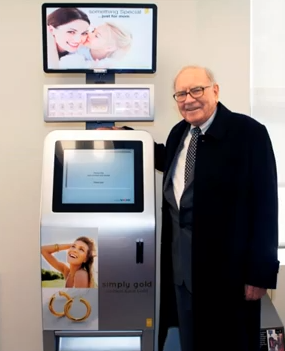 Berkshire Hathaway CEO, Warren Buffett, stands next to the "Precious Express" jewelry kiosk.
Related Topics:
Defining "Pearls," Warren Buffett Works the Jewelry Counter, and Other News