Bright ice posted pics of her jaw dropping 7+ ct OMC engagement ring upgrade on the Show Me the Bling forum at PriceScope! What an amazing ring, and Bright ice always has phenomenal pieces! This is a Victor Canera Pauline, what is your favorite Victor Canera setting?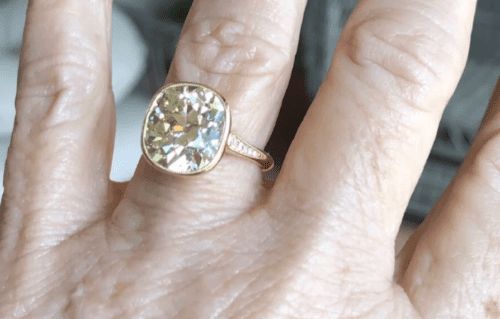 Well, if you saw this one come across the forum today (3.13.20), you probably expected this post. This ring is unbelievable! This buttery O-P antique diamond is mind blowing, it faces up a smooth vanilla in the most lovely way. The diamond was sourced from Old World Diamonds, and Victor Canera's setting really makes this OMC sing! I would not be able to stop looking at it!
Congratulations on your new ring, may it bring you joy for years to come!
The Stats:
7.04 ct OMC
O-P
antique diamond
Visit the original post with more pics and join me in congratulating Bright ice. What is your favorite Victor Canera setting? This is The Pauline!
The Jewel of the Week is our chance to feature and appreciate a recently posted piece from the Show Me the Bling Community!
Thank you so much for sharing your jewelry experiences with us. We look forward to seeing more!
#JOTW
Come show off YOUR fantastic bling with fellow jewelry lovers and trade professionals
Learn more about Ideal-Scopes on PriceScope!