The other week, the hubby and I took a trek to Washington DC to visit the Smithsonian Museum of Natural History. We didn't have much of a plan other than viewing some dinosaurs, but boy, was I surprised to discover the Janet Annenberg Hooker Hall of Geology, Gems and Minerals . I remember looking across the hall and seeing some impressive gems, so of course, I had to take a closer look. And there it was…
Right in the middle, on a rotating pedestal, sat the Hope Diamond, donated by the one and only Harry Winston. Unfortunately, I couldn't get a good photo, but it was everything one could imagine and more.
So it made me think, if there was one time to really wear some outrageous bling, NYE is it! Plenty of sparkles, sequins and baubles to bring in the New Year right! Although the hall was packed, I was able to see some equally impressive jewels and decided right then and there, 2019 was going to be the year of the emeralds and rubies!
Inquisition Necklace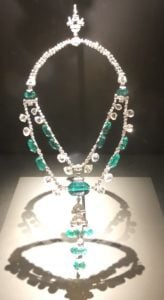 That 45 carat Colombian emerald (long considered the best in the world) surrounded by 336 diamonds convinced me that I needed to incorporate some emeralds into my NYE outfit and throughout 2019.
Fun fact: No one knows how the necklace got its name.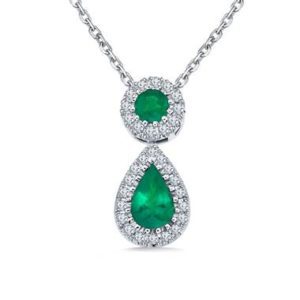 Unfortunately, we can't all be as blessed to own the Spanish Inquisition necklace, but we can own some diamond and emerald magic. This emerald and diamond halo drop pendant necklace set in 14K white gold is just the thing you need to bring in the new year.
Burmese Ruby Bracelet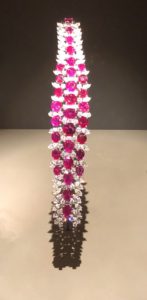 Does everything Harry Winston touches turn to gold rubies? Although this wasn't originally created by Harry Winston, he reset the Burmese rubies in this piece to create a glittering showpiece definitely worthy of the Smithsonian. The result, 60 carats worth of rubies and 27 carats worth of diamonds set in platinum. This bracelet will definitely give New York's glittering NYE ball a run for its money.
Fun Fact: The pigeon's blood rubies are said to be the finest rubies in the world.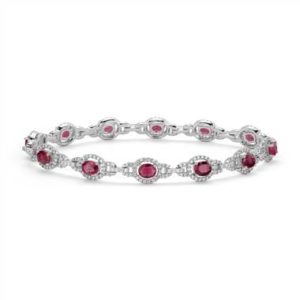 You can wear your own ruby bracelet on NYE for significantly less than the Harry Winston piece above. This ruby and diamond halo bracelet set in 14K white gold is a definite good year charm and a great way to start your journey into ruby ownership.
As we usher out 2018 and usher in 2019, it is important to remember two things. 1) Be kind to people and 2) look absolutely fabulous doing so! These emeralds and rubies are beautiful and should be included in any NYE outfit and jewelry boxes for all the NYE's to come!

By PS Staff