By PS Staff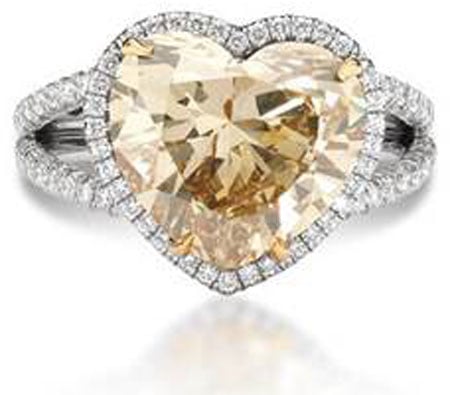 Fancy Yellow Heart-Shaped Diamond Ring in 18K White Gold by Ritani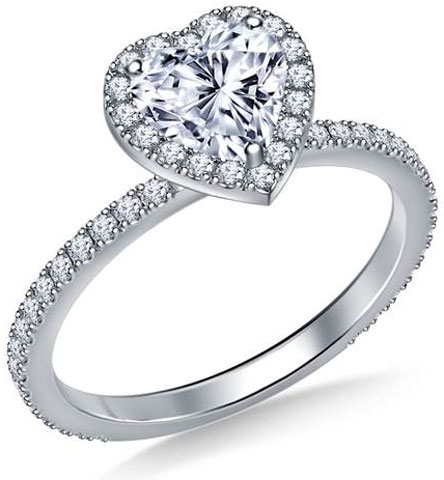 Heart Halo Engagement Ring in 18K White Gold by B2C Jewels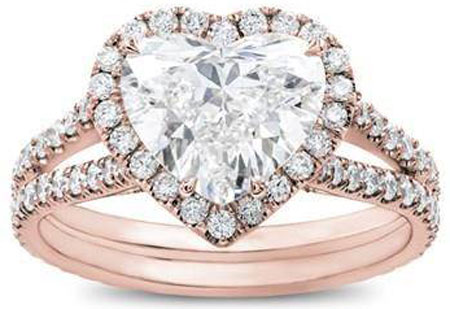 Heart Halo Engagement Ring in 18K Rose Gold by Adiamor
We are a little under a month out of Valentine's Day so we decided to turn our attention to one of the more ignored, but just as worthy of our attention, diamond cuts. Heart-shaped diamonds are beautiful, but have been unfairly downgraded because of the number of subpar cuts the less scrupulous jewelers are selling their clients. However, we are fans of this beautiful cut because we don't think that there is any other diamond cut which exhibits pure love and romance than heart-shaped diamonds.
The heart cut was first gifted to Queen Elizabeth by the Queen of Scots and a royal fan base was established. Throughout history, the cut was so prized because it was exceedingly difficult to master, especially with the tools available at the time. At one point, it was decreed that only royalty could wear the cut as it was an instant status symbol.
Now, jump forward a few centuries and you have the heart shape of today. It is no longer relegated to royals, but hasn't claimed its position at the top of the diamond ladder since. Although round brilliant diamonds are at the top of the popularity heap and fancy shapes are quickly threatening its position, heart-shaped cuts are still largely ignored by prospective grooms. Especially because even though cutting tools have advanced by leaps and bounds, cutters continue to struggle with cutting a beautifully proportioned shape.
The cut is ideal for the true romantics among us and we know you may have heard some disheartening things about the cut, but we're here to help you pick the best heart-shaped ring for the woman you love with the following tips:
Go for a Larger Carat Size – This cut is all about the shape, which is why you want to have one that is at least larger than half a carat. Anything less and the cut will look like a defective pear cut.

Proportions are Crucial – The best heart shapes possess proportions which show the diamond off to its best potential. It should have a positive length to width ratio, but the easiest way to tell if the cut is a good one, look at it. The more it resembles a balanced symmetrical heart, the better the length to width ratio.

Choose a Secure Setting – The interesting cut requires a sturdy setting. For smaller diamonds, this means a three-prong setting whereas larger heart shapes require a five-prong setting.
Heart-shaped diamonds are the perfect gift and engagement ring for Valentine's Day. After all, aren't the most romantic among us the ones who propose on a day dedicated to love by truly looking at the beauty of a heart-shaped diamond and using your knowledge to pick out a true gem to last a lifetime?