HNGN originally posted this incredible yellow diamond oval engagement ring on the Show Me the Bling forum at PriceScope.  What a stunning piece this is, the two-tone, three stone beauty is a feast for the eyes! I think I need a lemon drop!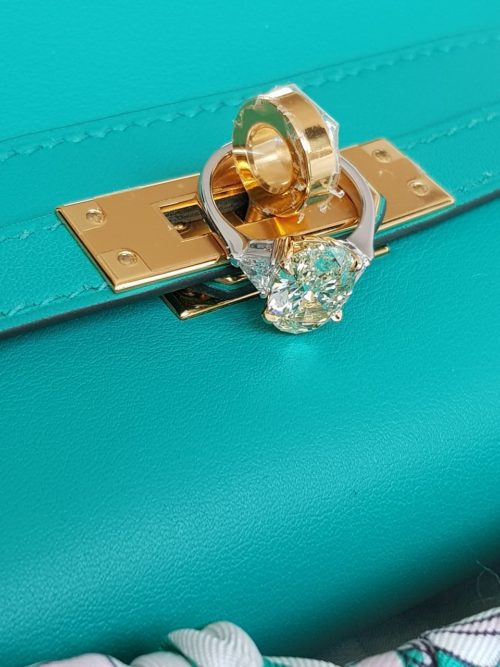 Originally seeking an RB above a J  for her upcoming engagement ring, HNGN's jeweler found this fabulous stone and sent the images over. It wasn't what she had originally envisioned, but it ended up blowing her mind (and our too!)
Going off plan won the day!
She says, "From wanting a RB above J to an Oval that is Yellowish,
From wanting a simple 1 stone style of Ering to a 3 stone ring (Oval Center with side Trilliants),
From wanting entire WG to 2 tone (Yellow Gold and Platinum and what I love love love EAGLE CLAW PRONGS!" What an exciting ride, and a glorious outcome! Now she just has to wait for her BF to ask and give it to her officially! I hope he doesn't wait too long, she'd going to be missing this beautiful ring!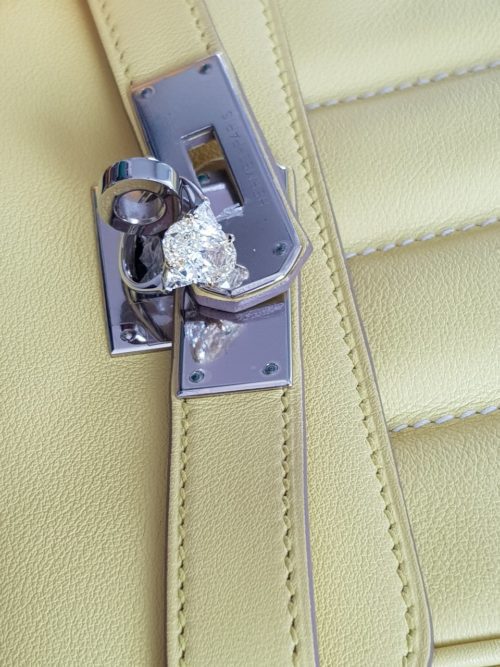 HNGN posted an amazing set of pics and lots of information about oval diamonds. We always love the opportunity to learn more about the diamonds and jewelry that catches our eyes! I love that she paired her ring with her Hermes bags, we are love great accessories and your bags are also gorgeous!
Congratulations on this ring, and your upcoming engagement HNGN! We are so glad that you shared this and can't wait to hear more!
Visit the original post with more pics, and join me in congratulating HNGN!
The Jewel of the Week is our chance to feature and appreciate a recently posted piece from the Show Me the Bling Community!
Thank you so much for sharing your jewelry experiences with us. We look forward to seeing more!
#JOTW
Come show off YOUR fantastic bling with fellow jewelry lovers and trade professionals
PriceScope has information about diamond grading, learn more here!