 Joined

Jul 19, 2019
Messages

159
Wow that's a long title... with just about almost every combination.
Background story: Chose my own diamond (with a deadline given from my bf). Back to the jeweler whom I have been working with for almost a decade.
Was Supposed: Wanted to find a RB above J color and upon calling in couple of diamonds, looking at the IS & ASET picture in which I'd already called that a "great stone", my jeweler stop me from buying them. In short, he is much stricter than me in terms of the quality of the stones he is going to sell me.
Long story short, we went back and forth for months and I was almost late for deadline that my bf gave me. Constant calls to my bestie who gave me great advises on whether should I change to other fancy shapes, colors, clarity etc? She is the best, she knows me so well that every time after each call, I am "enlightened". LOL!!
Anyways, I changed the specification to either Oval or Radiant with the carat weight I wanted and to go as yellowish as possible.
My Jeweler came to me with 2 options: 1 Radiant and 1 Oval A (with Videos & GIA & specs). My heart sang towards the Radiant.
However, when he tried to call in the stone, the Radiant is no longer available (sad but is okay, always the next time

).
The Oval A was already with him all along.
So we spoken on the very same day after:
Him: "So I have one good news and one bad news"
I am like "okay my radiant is gone?" (Because I already told him I prefer the radiant over the oval from the videos.)
Him: "Yeah BUT I got you something even better (Oval B), hold on, sending you the ASET & IS right away."
Me: "Okay I received" (but I didn't feel anything about the 5 professional pictures he sent, because previously I was always look on RB and their ASET image are BRILLIANT and I know nuts about Fancy shapes ASET criteria at all).
Him: (suddenly switch to video call and show me the diamond on his finger and the diamond itself. Although the resolution of VC is not good but I trusted this Jeweler so much especially over the last decade, I have purchased so many diamonds from him, all RB actually).
Him: "IT IS BEAaaa-UUTTTTI-FFULLL" (This phrase really wins me over. Why? Because all the ideal rounds we have seen previously were all rejected by him... Previously he said "I like it, but I don't love it."
Thus you can only imagine how much his affirmation on a diamond that is BEAUTIFUL was important to me.)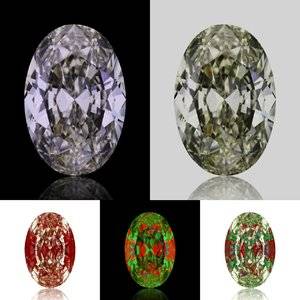 Made my decision within 5 minutes, paid and then work on the settings with him (those he already have on hand that fits my diamond). I wanted a simple setting where maybe some pave diamonds on the basket or what. But he only has 2 settings (both were 3 stones) which are quite not my style. But anyways due to the deadline, I really have not much choice, I go with the simpler 3-stone ring vs the other more flamboyant one.

The process was really like a roller coaster... It started with excitements and then frustrations (when stones kept being rejected) and then uncertainty and then anxiety to the END RESULT. I don't regret! In fact I am SURPRISED NOW that I got something completely different from what I was expecting. Thus there is a tint of surprise in it although I am choosing everything myself
From wanting a RB above J to an Oval that is Yellowish
From wanting a simple 1 stone style of Ering to a 3 stone ring (Oval Center with side Trilliants)
From wanting entire WG to 2 tone (Yellow Gold and Platinum and what I love love love EAGLE CLAW PRONGS)
May I present ....................................... my lemony (excuse my ugly finger, okay this ring is technically not mine yet, got to pass to my BF and WAIT
):