By Erika W.
Researchers at Ehime University in Matsuyama, Japan, have created the first perfectly spherical diamond, according to a report from the Daily Yomiuri. The 4ct lab-created diamond has a 7.5mm diameter and is called Hime, a diamond variety produced by the university's Geodynamics Research Center. The lab produced another Hime diamond in 2003, but the stone measured less than 1mm in diameter. Hime diamonds are said to be harder than naturally formed diamonds and have "a uniform degree of hardness throughout their structure, whereas this changes in different parts of a natural diamond," the Daily Yomiuri reported.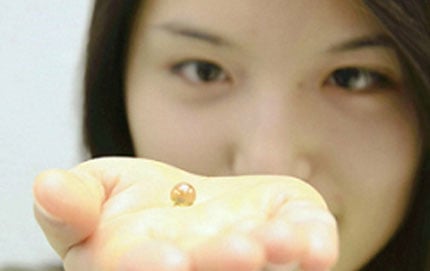 Photo: Yomiuri Shimbun
The world's first "perfectly spherical" diamond created by researchers at Ehime University in Japan.
Related Topics: