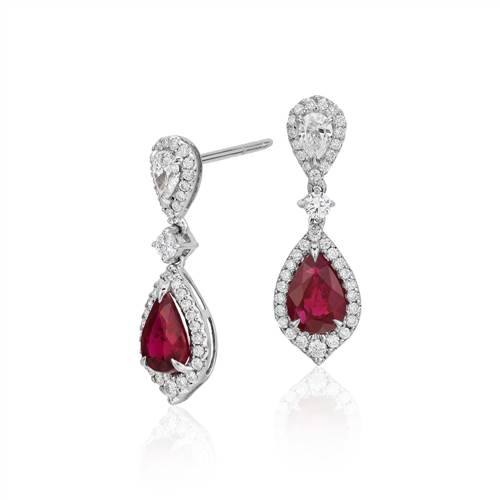 July's Birthstone: Ruby
It should come as no surprise that a month that starts off with a literal bang has the rich red ruby to represent their birth month. The ruby is the most expensive gemstone on the market (sorry diamonds) and is said to bring fortune, passion and energy to those born in July.
Famous Fan: Elizabeth Taylor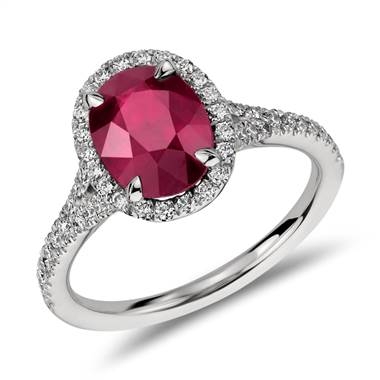 Oval ruby and diamond halo ring set in platinum

at Blue Nile
Now, you know you're in good company when Elizabeth Taylor is a fan. She was no stranger to fabulous jewelry, but one of her most impressive pieces was a large ruby her then-husband Richard Burton gifted her. He once told her that he would give her, "…the most perfect ruby in the world." The result was an 8.24 carat Burmese ruby ring surrounded by diamonds from Van Cleef and Arpels. We imagine it was one of her favorite pieces as there are numerous photographs of her wearing the ring accessorized with some of her other favorite pieces.
Wedding Jewelry
Baguette, pave, and ruby engagement setting

at Adiamor
When we think of wedding jewelry, most of us visualize pearls and diamonds. But did you know that many cultures consider rubies the ideal wedding gem because of it is considered a symbol for love and passion. What bride wouldn't want to have that with her on her wedding day? No rubies in your wedding trousseau, no worries. Ruby is also what you receive on your 40th anniversary gift. Talk about another reason to stay together forever!
Buying Rubies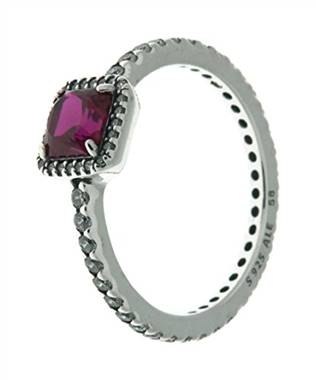 Timeless elegance ring, synthetic ruby and clear CZ

at Pandora Jewelry
If you want a ruby as close to Elizabeth Taylor's, then it's going to cost you. The best rubies are Burmese and have a rich red color. If you have a ruby with an inclusion, then it is even more valuable as it serves as proof of the stone's authenticity. Specifically, if it has a specific type of inclusion – a cat's eye or star effect- then it can push the price up even higher. If you like the ruby's look but don't have deep pockets then opt for a heat-treated ruby to give you the same effect but at a lower price point.
The ruby's fiery color lends itself well to 4th of July fireworks, July babies and fans of it's rich red hue alike. Thankfully you don't have to be fabulously wealthy to have this passionate stone in your jewelry box (although it helps). The best part about it all, you can wear this look year round.

By PS Staff