By
Erika Winters
Fabulous Jewelry Shared by Pricescope Members
You may need a pair of sunglasses for this week's featured jewels–line bracelets with white and yellow diamonds! Thanks everyone for sharing your gorgeous jewelry in the Show Me the Bling forum!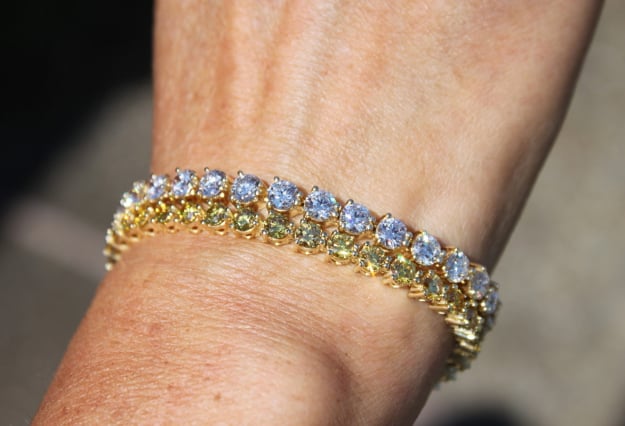 Whoa. Now this is a wrist full of bling! Cflutist's newest bracelet is pictured here with fancy intense yellow diamonds–7.15 carats total, in fact. She's paired her new yellow stunner with a 10.5-carat white diamond line bracelet in the first picture. And in the second picture, she's added another bracelet–and a Tiffany fancy yellow diamond ring! See more pics of her Tiffany ring here. And just FYI, the matching round yellow diamonds were very difficult to acquire, but the teams at High Performance Diamonds and Crafted by Infinity simply nailed it! Be sure to visit cflutist's forum thread for the full story behind these stunning bracelets:
19+ ctw of Diamonds from WINK Including a New FIY Bracelet!!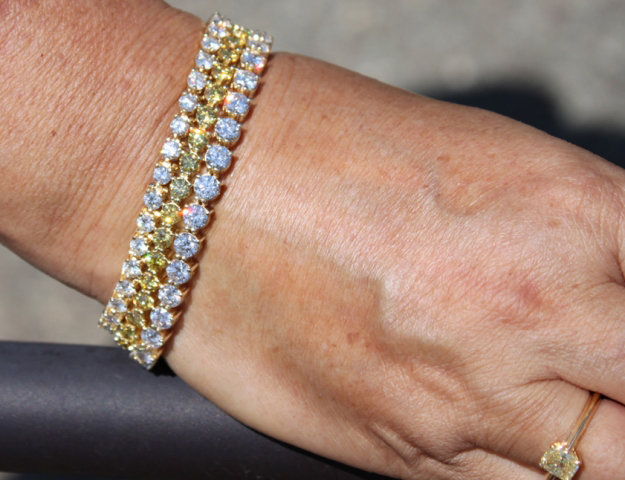 Thanks for sharing, cflutist!
Related:
My 8.94 TW Parcel of Fancy Intense Yellow Round Brilliants
Rahaminov Diamonds Unveils 40-Carat Yellow Diamond Ring