PS Welcome - YouTube
All about PriceScope
Fri, 27 Jan 2012
Jewelry Musing on Baz Luhrmann's Adaptation of 'The Great Gatsby'
H1:
Jewelry Musing on Baz Luhrmann's Adaptation of 'The Great Gatsby'
By
Erika W.
When we learned that Tiffany & Co. was designing jewelry for Baz Luhrmann's upcoming film of F. Scott Fitzgerald's 1925 novel, The Great Gatsby, we couldn't think of a better fit for the Art Deco design influence, glamor, and decadence of the Jazz Age.

"Tiffany & Co seemed the perfect fit for the jewelry of The Great Gatsby not only because F. Scott Fitzgerald himself was a customer but also because Louis Comfort Tiffany, the brand's first Design Director, mixed in the actual Long Island circles described in the novel," said costume and production designer Catherine Martin. "The Tiffany & Co Archives have proven to be an invaluable resource in looking back at this Golden Era of affluence and fine jewelry and the continuing tradition of excellence and exquisite craftsmanship has allowed us to both create and recreate pieces that we hope will do justice to this extraordinary novel."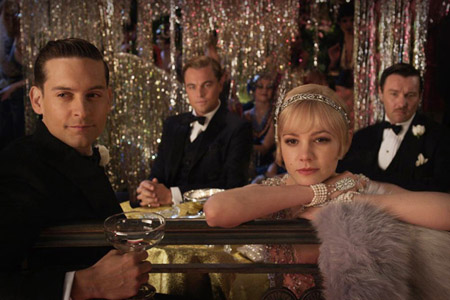 Photo: Warner Bros.
Carey Mulligan, (Daisy Buchanan) Tobey Maquire, (Nick Carraway) Leonardo DiCaprio, (Jay Gatsby) and Joel Edgerton (Tom Buchanan) in a still from the set of The Great Gatsby.
The film, which is set for a December 2012 release, will feature opulent diamond and gemstone jewelry that complements the clothing of the period. Until trailers and additional images are released, here are a few vintage Tiffany jewels to tide you over...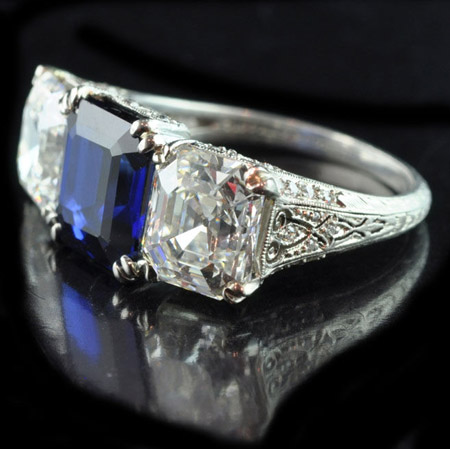 Circa 1925 - Tiffany & Co. platinum sapphire and diamond three stone ring - Hancocks at 1st Dibs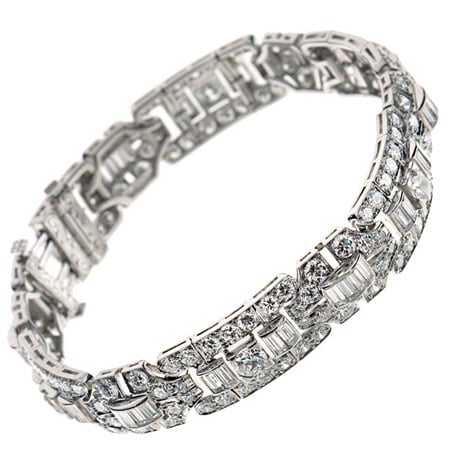 1920-1930s - Tiffany & Co. diamond bracelet - Tenenbaum & Co. at 1st Dibs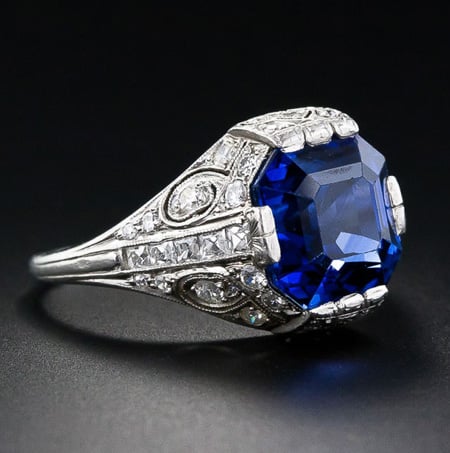 Art Deco Tiffany & Co. platinum ring with 8 carat sapphire - Lang Antiques at 1st Dibs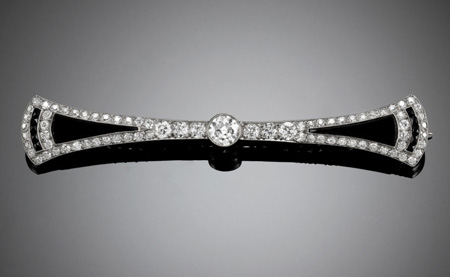 Circa 1930 - Tiffany & Co. onyx and diamond bow brooch M.S. Rau Antiques at 1st Dibs
Related Topics:

T & Co will be doing the jewelry for The Great Gatsby remake

Tiffany Yellow Diamonds

Tiffany Inspired - Tiffany Setting Comparison