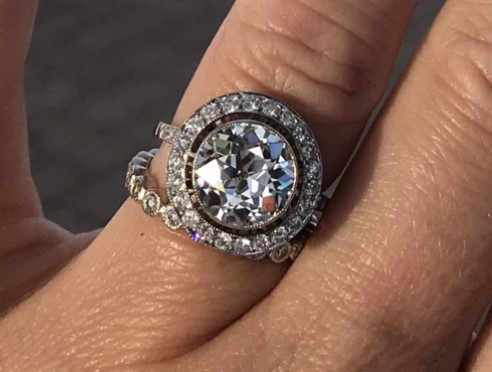 Isithering's Beautiful Birthday Bling!
Isithering shared this jaw dropping OEC Ring on the Show Me The Bling Community at PriceScope.com. Happy 40th birthday to Isithering, and happy anniversary too! Birthdays with a zero can seem like they might be intimidating, but it's a lot easier to remember that it's another year FABULOUS with gifts like these! This was a stunning choice, I love that your spouse had you choose your gift, as a PriceScope member you were well armed to find this dazzler!
don't you love the body on this ring?
Living in Australia and ordering an antique ring from New York online seems daunting, but David at Israel Rose made it comfortable and easy. I love that when the package came, isithering had her husband look first and she knew it was good from the look on her 5 year old's face! Your 5 year old shares your phenomenal taste! Congratulations on this addition, it's marvelous!
The Stats:
2.52 ctw OEC
Color: J/K
VS1
Go see the post with more pics! Follow me to the bling!
The Jewel of the Week is our chance to feature and appreciate a recently posted piece from the Show Me the Bling Community!
Thank you so much for sharing your jewelry experiences with us. We look forward to seeing more!
#JOTW
Do you know your antique and vintage ring looks? Learn more about antique rings, here.
Come show off YOUR fantastic bling with fellow jewelry lovers and trade professionals in the Show Me the Bling Community, here.