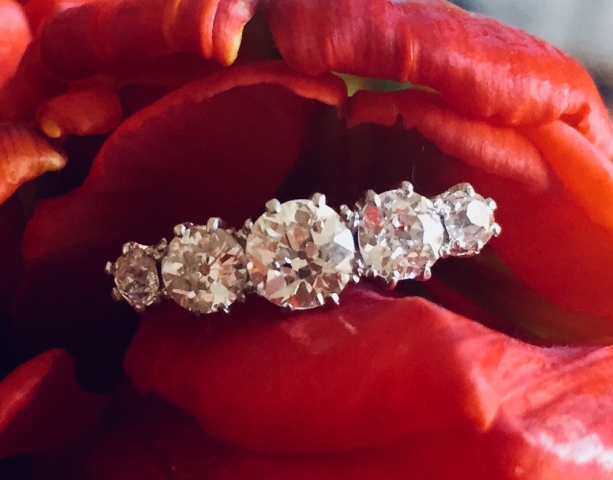 Alluring Art Deco
Petite_singe shared this gorgeous OEC 5 stone ring on the Show Me The Bling Community at PriceScope.com. It must be 5 stone week for me here, because my TBT was another fabulous 5 stone. We have so many OEC fans here in the PriceScope Community, and is there really any question why? This art deco look is a classic beauty that will never get stale!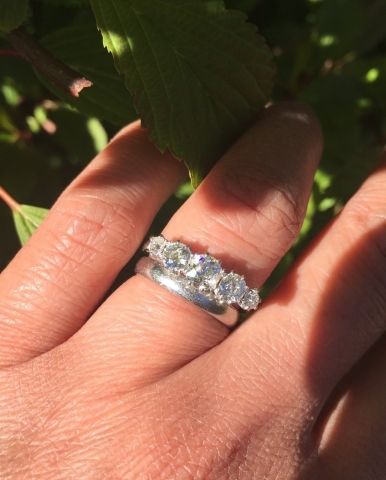 Sunny finger shot
This look had been on petite_singe's wish list for a long time, she first found her love for the graduated 5 stone pouring over the Show me your 5 stone ring post on PriceScope. That ring would give anyone some serious bling envy, but petite_singe found her match and is now joining those that are inspiring the envy in the rest of us! Big Kudos to Petite_singe! Thank you for sharing with us!
The Stats:
Art Deco 5 OECs c1.06ct
delicate platinum setting
D-E colour (insanely white in person!)
Clarity: SI1-2
Size J (equivalent to a US 5)
Go see the post with more pics! Follow me to the bling!
The Jewel of the Week is our chance to feature and appreciate a recently posted piece from the Show Me the Bling Community!
Thank you so much for sharing your jewelry experiences with us. We look forward to seeing more!
#JOTW
Do you love 5 stone rings? Learn more about 5 stone rings, here.
Come show off YOUR fantastic bling with fellow jewelry lovers and trade professionals in the Show Me the Bling Community, here.