All you need is love…and Cartier is determined to help us find it. The company launched the now iconic line with the simple question, "How far would you go for love." Now, 49 years after it made its debut, it is one of the most searched for pieces of jewelry and legend has it, that some hospitals even keep the bracelet's screwdriver on hand in order to remove the bracelet from an unfortunate guest's wrist.
The Cartier Love Bracelet
The Love bracelet is probably the most well-known of the line. We think it is because of it's timeless elegance – finding legions of fans among the young and old – as well as the intriguing design which requires a screwdriver to open and close. We've even heard of some fans wearing their bracelets for so long, that when they tried to remove it with the screwdriver, it wouldn't budge.
Celebrating Love
When you're launching the legendary love bracelet, it's helpful if you have couples legendary for their love wear your pieces. Cartier gave Elizabeth Taylor and Richard Burton, The Duke and Duchess of Windsor, Steve McQueen and Ali McGraw. I mean, it was nearly impossible for the bracelet to avoid it's iconic status with those with those famous couplings wearing their bracelet.
The Rebirth
The bracelet's popularity skyrocketed and before long Cartier decided to release a Love ring as well as a necklace. Although the pieces sell well, it is still the bracelet which many people hold dear.
Avoiding Heartbreak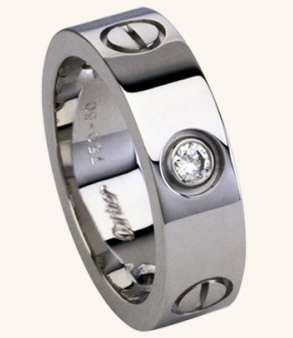 Cartier Love ring Credit: Brandon Baunach, license (https://creativecommons.org/licenses/by/2.0/legalcode )."
For every real Cartier Love bracelet, there are many more counterfeit bracelets. Some are easy to distinguish as they are too light or do not include some of the brand's famous hallmarks. Others are actually made from gold and can fool even the most well-trained eye. Without giving too much away, we will say one thing. Make sure any Cartier bracelet you are set on purchasing is in an oval shape and NOT round. That is a defining hallmark of the bracelet's design and every Love bracelet is and has always been oval.
The Cartier Love bracelet is an heirloom beauty worthy to be included in any jewelry fanatic's collection. It spans time, symbolizes love and never leaves your side. See, didn't we tell you that all you need is Love?