By PS Staff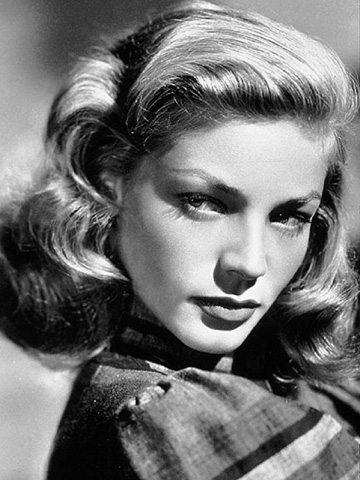 Do you ever find yourself wishing for the screen stars of old? You know the ones who knew how to slay on the red carpet in the most elegant of ways? Well, we do. Don't get us wrong, we love Lupita Nyong'o, Jennifer Aniston and Sofía Vergara; but there is something mesmerizing about the old screen beauties of yore. One such beauty which has had us transfixed for decades is Lauren Bacall. She had those seductive eyes, that husky voice and her sultry stylish looks; who wouldn't be inspired by her? The good news is that if you want to duplicate her style, it's easy and doesn't require deep pockets. Read on to learn what pieces you need to have in order to get the look from this Hollywood style icon.
A Great Cocktail Ring
We pored over photos of Ms. Bacall and one thing we noticed is that her fingers were rarely, if ever, naked. However, she was not one to wear a ring on each finger. Instead she selected a sizeable ring (aka statement ring) to do the talking for her. She favored turquoise stones, gold and interesting gemstones to liven up an outfit.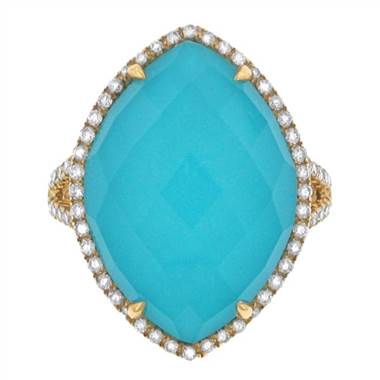 Turquoise and White Topaz Ring

at Solomon Brothers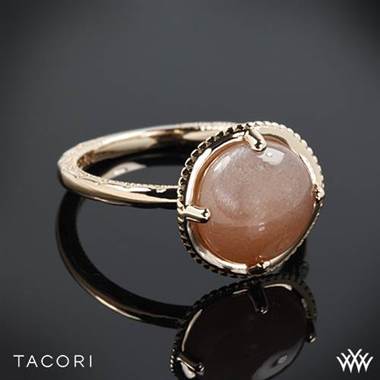 Moon Rose Right Hand Ring

at Whiteflash
Tennis Bracelets and Bangles
Although you would be hard pressed to find Elizabeth Taylor sized diamonds, it does not mean that Ms. Bacall eschewed them altogether. She loved tennis bracelets of various sizes and typically wore them alone or stacked with bangles. Look at that, she preempted one of the season's hottest jewelry looks decades before it was in style.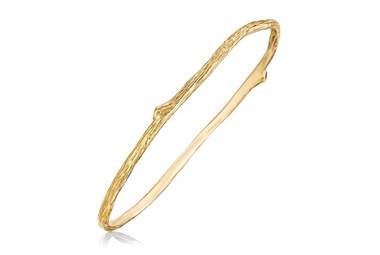 18K Yellow Gold Twig Bangle Bracelet

at Ritani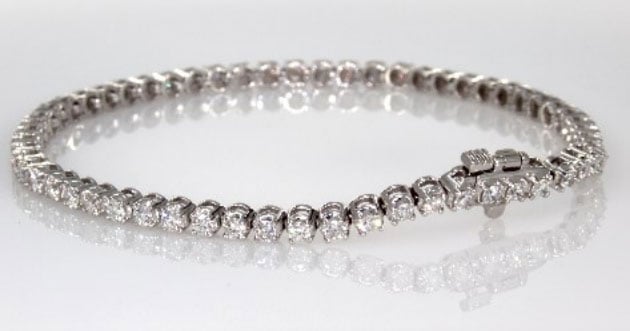 14K White Gold Diamond Tennis Bracelet

at I.D. Jewelry
Stud Earrings
Ms. Bacall loved her stud earrings. Yet much like her ring choices, she steered away from large diamonds and instead favored simple gold studs. She was elegant, ladylike and another way of walking to the beat of her own drum.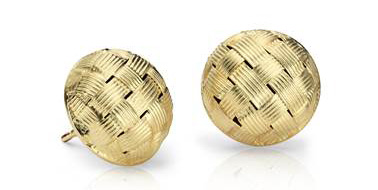 18K Yellow Gold Basketweave Stud Earrings

at Blue Nile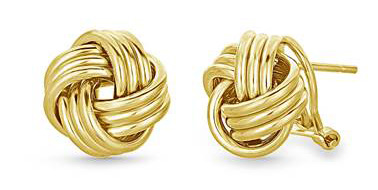 14K Yellow Gold Love Knot Stud Earrings

at B2C Jewels
Visit our "Resources >> Jewelry Search" to browse for YOUR favorite jewelry.