By Erika W.
Harry Winston
"People will stare. Make it worth their while." – Harry Winston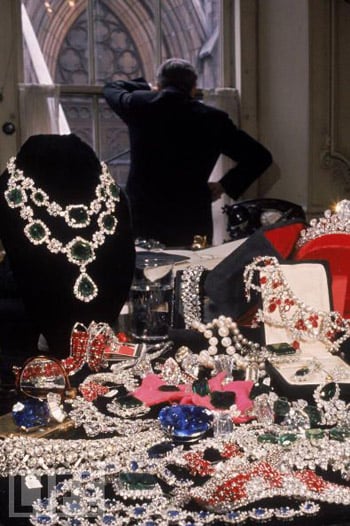 1960 photo of Harry Winston and an array of jewels
harrywinston.com
Harry Winston started an empire buying and resetting estate jewels. At age 19, he started The Premier Diamond Company with just $2000. One of his first acquisitions was the jewelry collection of heiress Rebecca Darlington Stoddard. He removed the gemstones from their original settings, and remounted them in contemporary jewelry, which he resold for a profit. Winston's keen eye for gemstones and contemporary design propelled him forward, and in 1932 he closed The Premier Diamond Company to open Harry Winston Inc.
Famous Gems
The Jonker Diamond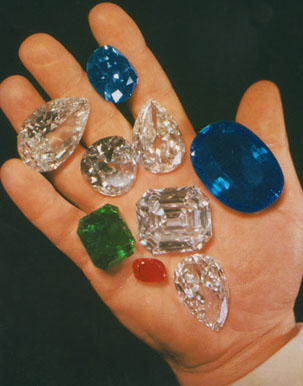 Famous Stones – including the 125.35 carat Jonker diamond
harrywinston.com
"THE COURT OF JEWELS – By creating an unparalleled exhibition called the 'Court of Jewels,' Winston's collection of world renowned gems travelled major American cities from 1949 to 1953." – harrywinston.com
In this photo, Harry Winston holds some of his famous gems in the palm of his hand. The 125.35 carat emerald cut Jonker diamond is center. Just under the Jonker is the 94.80 carat pear shaped Star of the East diamond. The 45.52 carat blue Hope diamond rests between his index and middle finger. The 337.10 carat Sapphire of Catherine the Great is next to his thumb, and the 70.21 carat Idol's Eye diamond is just above the Jonker. A matched pair of pear shaped diamonds and a larger ruby are also shown.
Lesotho One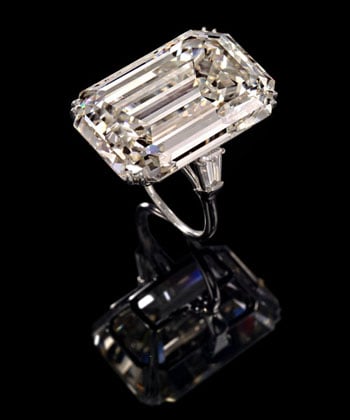 © Sotheby's
The Lesotho One, a 71.73 carat emerald cut diamond
harrywinston.com
"THE LESOTHO – The original rough diamond – over 601-carats uncut – was unearthed in 1967 by a woman in the South African kingdom of Lesotho. Fearing for her life, the woman fled on foot for four days and nights to sell the incredible stone under government protection. Purchased by Harry Winston, the cleaving of the Lesotho was broadcast live on television in 1968, resulting in 18 separate gems. The largest, LESOTHO ONE, is an exquisite 71.73-carat flawless emerald cut diamond. Aristotle Onassis purchased the 40.42-carat LESOTHO THREE for Jacqueline Kennedy Onassis' engagement ring." – harrywinston.com
The Hope Diamond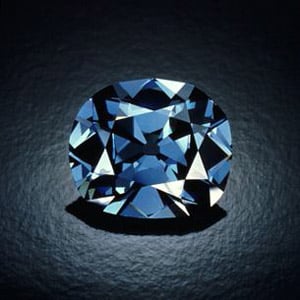 The Hope Diamond
Photo by Tino Hammid
palagems.com
In 1958 Winston donated the Hope Diamond to the Smithsonian as a "gift to the American people." The famous blue diamond was set by Cartier in 1910. The diamond is currently loose on display at the Smithsonian, and the new Harry Winston setting featuring the Hope will be presented in November. The new setting is called Embracing Hope and was chosen from three potential designs.

Rendering of Embracing Hope
New Harry Winston Setting for The Hope Diamond
harrywinston.com