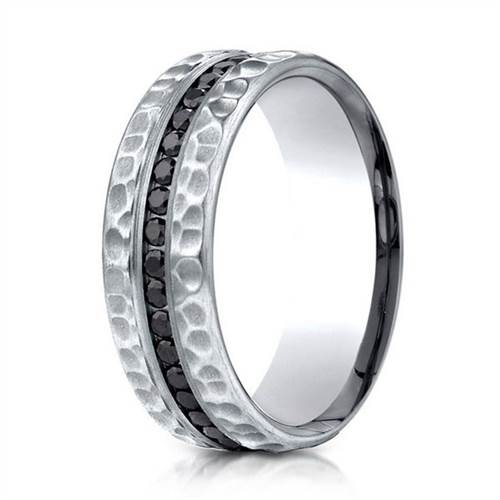 Benchmark CF71757114KW10 Black Diamond and Comfort Fit Wedding Band at Solomon Brothers
One of our very own is getting married quite soon and she is in the market for a wedding band for her husband-to-be. Although she is in the market for a simple glossy design, she couldn't help but notice the overwhelming amount of hammered wedding bands on the market. They were everywhere and seemed to outnumber the traditional, yellow gold band, with good reason of course. Men want just as many options for wedding bands as women have for engagement rings and jewelers have listened. The results are a myriad of options for men's wedding bands. Since the bride traditionally selects the wedding band, we have put together a quick guide to help you figure out if your groom would love (or loathe) this look.
He's Modern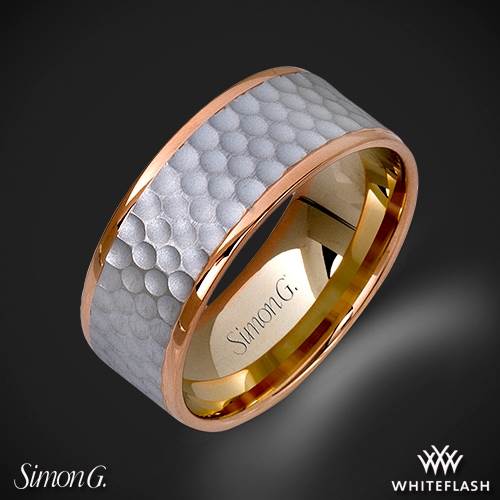 14k White Gold Simon G. LG119 Men's Wedding Ring with Rose Gold Accents at Whiteflash
The hammered band may appear to be from another era; but make no mistakes, it is a thoroughly modern band for a modern man. Up until a few years ago, men had very few options for wedding bands outside of selecting gold; therefore, this look is quite new and perfect for men who want to deviate from the traditional band.
He's Rugged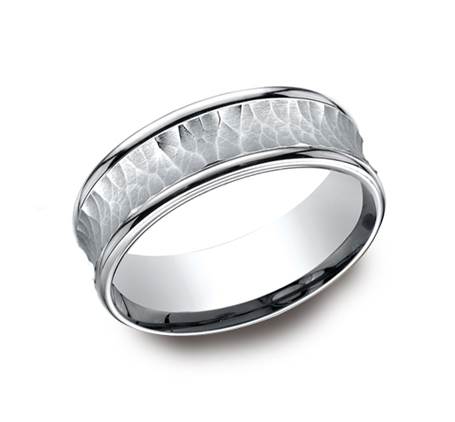 7.5mm Comfort fit Wedding Band Features A Hammered Finish In 18K White Gold RECF8750818KW-IBMD at I.D.Jewelry
If your man goes hiking, works with his hands and doesn't shy away from manual labor, this style is for you. A glossy ring would not fit into his style or lifestyle. Think about it, which ring would look better after it was lived in for a bit . . . the shiny band which shows every scratch and nick or the rugged band which was made to take lumps and bumps and look better for it?
He Likes to Have Options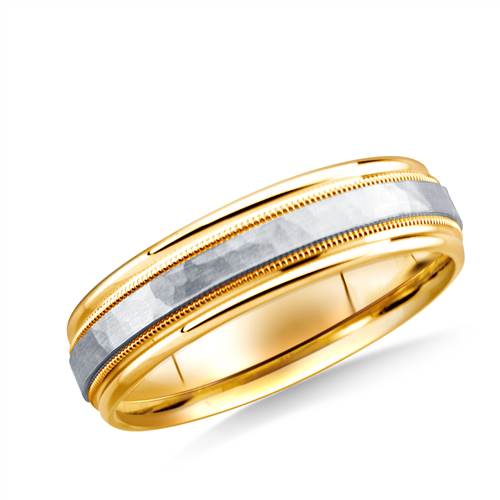 14K Two-Toned 6mm Comfort-Fit Hammered-Finished with Milgrain Carved Design Band at B2C Jewels
The wonderful thing about the hammered look is that there are endless options within the style. Does your man fancy himself traditional with a touch of modern? Then he can wear a combination glossy and hammered ring. Does he prefer non-traditional metals like tungsten? Then there's a ring for him as well! You can find hammered wedding bands in nearly any style or metal he can imagine; so if you are set on a specific style, we're pretty sure it is already on the market just waiting for you to snap it up!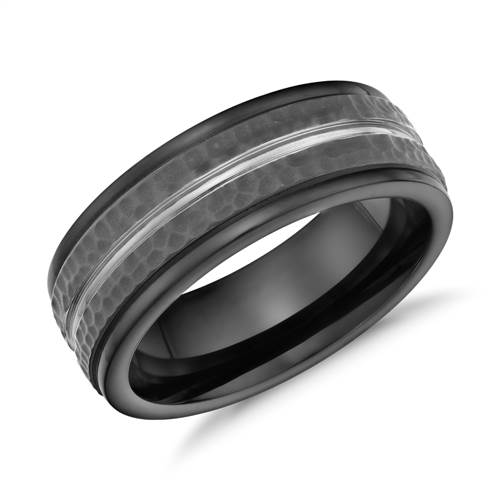 Hammered Finish Wedding Ring in Blackened Cobalt (8mm) at Blue Nile
Visit our "Resources >> Jewelry Search" to browse for YOUR favorite wedding bands.
By PS Staff