Guess what, one of 2019's biggest engagement ring trends is yellow gold! We know, we know, yellow gold is old-fashioned, but guess what, it isn't. Today's yellow gold engagement rings have incorporated modern designs with a timeless appeal.
Wedding Band Set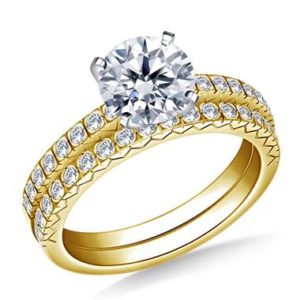 Let's take a look at this beautiful wedding set. The band evokes a very modern feel by taking on the appearance of the stacked trend by opting to make the rings' bands very delicate. The bands are fine enough to pair with other rings thus creating a completely customizable look for your wedding set.
Modern Bezel
This bezel ring is a master class on modern engagement ring design. This ring is perfect for today's active woman who may run the risk of chipping a prominent diamond during her daily activities. This ring is safe, secure, modern and sophisticated and one of our favorite yellow diamond engagement rings.
Classic Solitaire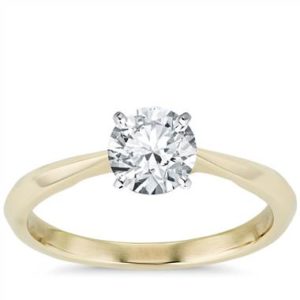 If it ain't broke don't fix it. This ring is for the traditional, engagement ring purists. Those who want nothing less than a round solitaire set in yellow gold. This Zac Posen ring is the epitome of elegance – much like his evening gowns – and are made with the utmost attention to detail.
We're excited for the yellow gold engagement rings and hope this trend will be around long enough to see all the new looks designers will incorporate using this metal!

By PS Staff