By
Erika Winters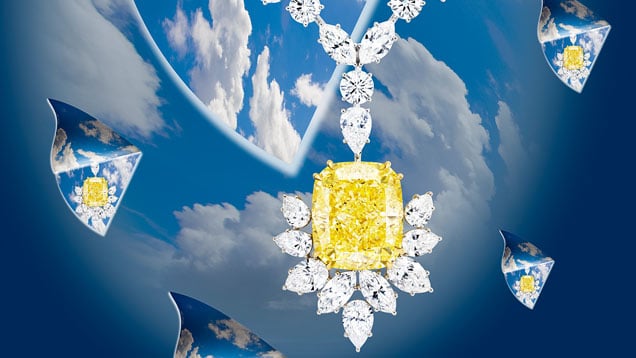 Necklace by Chatila featuring a 54.29-carat yellow diamond and 67.10 carats of white diamonds – Image from the Dreams of Diamonds book – courtesy of GIA
The Gemological Institute of America (GIA) will be showcasing rare diamonds and exceptional jewels in a new exhibition at GIA world headquarters in Carlsbad, CA. The show, which runs from April 29 through May 11, 2015, coincides with the debut of Dreams of Diamonds, the largest book ever published on these rare diamonds and jewelry pieces from some of the finest diamond houses in the world.
In the book Dreams of Diamonds, British photography and design duo Alastair Laidlaw and Christine Marsden feature diamonds and jewels in unusual and surreal settings. The large-format book weighing over 30 pounds took six years to complete. The jewels in the book were provided by 12 notable diamond houses and designers. Seven prominent jewelers and designers have loaned pieces to GIA for the exhibition: Adler, Chatila, Chow Tai Fook, Diacore, Diarough, Mouawad and MUNNU The Gem Palace.
"The creators of Dreams of Diamonds were able to capture extraordinary diamond pieces in enchanting, ethereal settings," said Terri Ottaway, curator of the GIA museum. "This exhibit is an ode to the wondrous world of diamonds and we're fortunate to share the artistry of these seven diamond houses with the public."
GIA's museum is free and open to the public Monday through Friday. Reservations are required. Visit GIA for more information or call 800-421-7250.
Where: GIA World Headquarters, The Robert Mouawad Campus: 5345 Armada Drive, Carlsbad, CA 92008
When: April 29 through May 11, 2015
Related:

For Your Library: "Masters of Dreams" Jewelry Documentary with 13 Legendary Jewelers