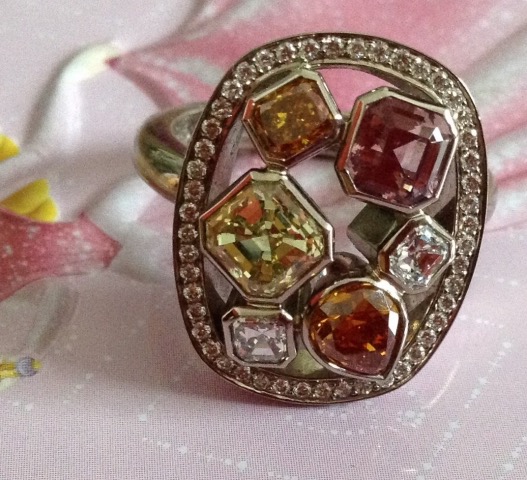 Mariedtiger's FancyColored Diamonds ring
Mariedtiger could teach us all a few things; this ring was purchased in preparatory celebration of her 40th birthday that was still a few years out.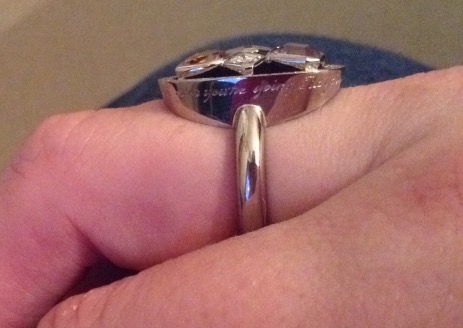 Mariedtiger's FancyColored Diamonds ring side view
I love the way that it sits on her finger! The inscription is from Andy William's Moon River, what a lovely touch! Sourcing stones from Leibish & Co. and Diamonds by Lauren , she ended up with a stunning collection to create this unique piece!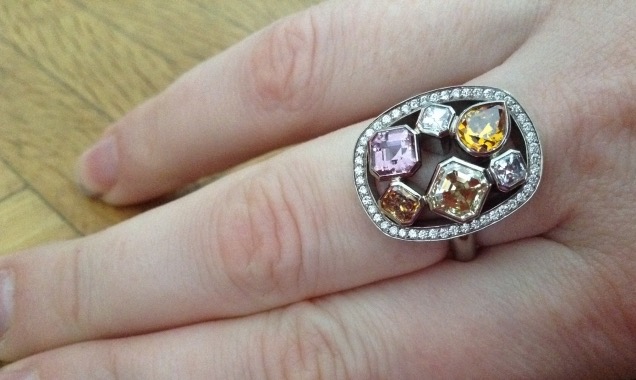 Mariedtiger's FancyColored Diamonds ring hand shot
A little bit about the stones:
Fancy deep yellowish orange pear 0.64 ct
Fancy vivid yellow orange radiant 0.23 ct
Fancy light yellow asscher 1,1 ct
Pink asscher cut spinel
White gold ring with a halo of brilliant cut diamonds.
She entrusted the carefully selected stones to Annette Tillander to work her magic, and was not disappointed! Beautiful piece to celebrate your life thus far, MariedTiger!
To read more about Mariedtiger's ring and see more pics, click here.
For Throwback Thursdays, we take the opportunity to re-appreciate beautiful pieces that have been shared over the years!
Thank you so much for sharing your jewelry experiences with us. Keep revisiting PriceScope's past with us each Thursday!
#TBT