Featured image: Emerald-Cut Halo Diamond Engagement Ring in Platinum at Blue Nile
Engagement season is coming to a climax on Valentine's Day and we hope you find the diamond of your dreams in that very special jewelry box. We decided to take inspiration from many celebrities' emerald cut engagement rings and examine a few emerald cut rings which would look fabulous on anyone's finger.
Solitaire Pizzaz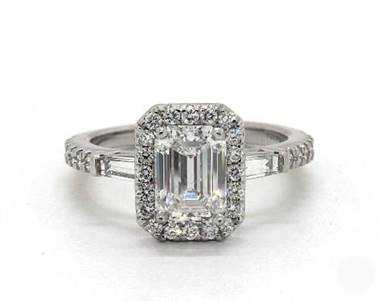 We love this ring for its simplicity, yet elegant lines. It reminds us of a solitaire that packs a punch with this beautiful halo setting. This setting is ideal for anyone looking to have a phenomenal diamond set in a world-class setting. And, what's even better, is that the extra sparkle is free.
Heavenly Halo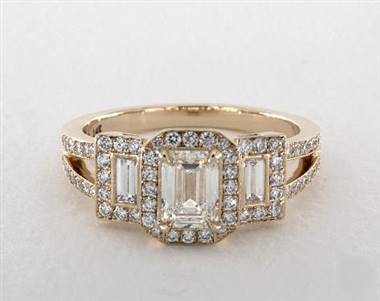 Why have one halo when you can have three? This beautiful split shank engagement ring highlights all three emerald cut diamonds to their utmost beauty. It is a perfect balance between the old style and the new and the split shank packs an extra elegant touch for anyone who is interested in upping the bling factor.
A Stone of a Different Cut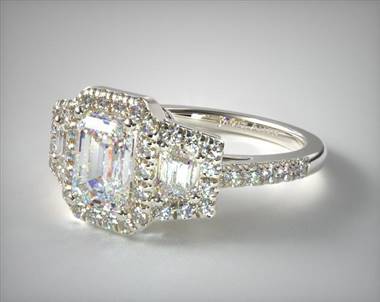 We spent this post highlighting the amazing elegance of the emerald cut diamond, however, we neglected to tell you how much we love trapezoid stones. This stone has two trapezoid stones which beautifully frame the center emerald stone. This is a true match made in heaven and one of our favorite looks to date.
These emerald cut engagement rings can be expected to take off in the near future. For, the emerald-cut diamonds are not only increasing in popularity, but beauty as well. There is an emerald cut diamond for everyone out there and we think your next stone should be an amazing emerald cut stone.

By PS Staff