By Erika W.
Diamond Prices Weaken
After months of substantial diamond price increases, retail diamond prices are starting to weaken. Last month we charted price drops for carats weights of 0-0.5 and 0.5-1.0. The list below reflects diamond price changes for August 2011. Prices are based on vendor listings of over 450,000 diamonds on Pricescope. The price chart is updated monthly.
Retail Diamond Price Percentages for August 2011
0 to 0.5 ct 5% down
0.5 to 1.0 ct 1% down
1.0 to 2.0 ct 2% up
2.0 to 3.0 ct 2% up
3.0 to 4.0 ct 2% up
4.0 to 99 ct 1% up
Pricescope Updated Diamond Price Chart
The Pricescope diamond price chart illustrates a 5% and 1% drop in the carat ranges of 0 to 0.5 and 0.5 to 1.0. Pricescope has been charting retail diamond prices since 2007.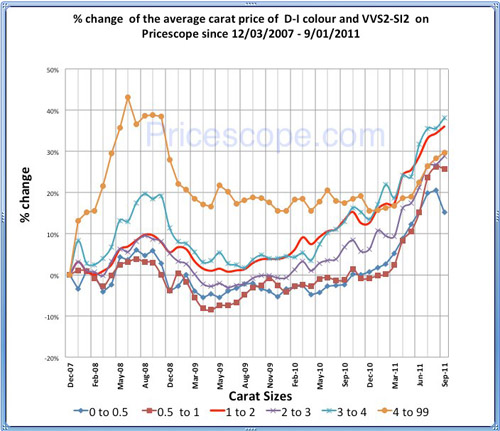 The Times of India: De Beers holds diamond prices to calm market
SURAT: In order to restore confidence in the Indian diamond industry, especially among the diamantaires in Surat, the global diamond mining giant De Beers and the Canadian diamond producers have decided to maintain their current prices and supplies until the end of the year, hinting that the prices of rough diamonds will not increase.
Nasdaq: Sector Update: Diamond Producers Lower Today with 2.25% Weekly Decline in Gem Prices
Diamond producer stocks are lower today, possibly following reports of a 2.25% decline in gem prices this week.
IDEX Online Rough Diamond Market Report: Ceiling Reached, Time for a Deep Breath
The rough diamond market is at a near standstill this week, with very limited trading in goods. DTC's large Sight with somewhat higher prices and Alrosa's tender results stand in stark contrast to the results of the BHP Billiton tenders featuring a 20-30 percent drop in prices.
IDEX Online Research: Polished Diamond Prices Stall and Slip Slightly in August
That quiet hissing sound you hear is the air slowly seeping from the polished diamond price bubble that has built up over the past several months.
Rapaport Research: Market Comments 9/1/2011-
Buyers Avoid Large Purchases, Markets Seek Price Stability
Trading slow with buyers avoiding large purchases as diamond markets seek stable price levels. Rough continues to fall in dealer markets with elimination of premiums and some discounting of mining company prices.
PolishedPrices: Polished prices weaken during August
With the markets quiet for the summer holidays and increasing uncertainty over the health of the world economy meant that August was a poor month for polished diamond prices.
Related Topics:
Rob Bates – "Diamond Prices Starting to Weaken"
Diamond prices – will they rise or fall?

2011 Rapaport State of the Diamond Industry: The New Normal
Buy now or hold off? (A prices question)
Discuss diamond prices on the Forum