Catmom shared this dazzling dragonfly on the Show Me the Bling Forum at PriceScope.  I love this, I think the pink is perfection and the dragonfly is magnificent. The dragonfly, in almost every part of the world symbolizes change and change in the perspective of self realization. I don't know if that is why Catmom has been in a self proclaimed "dragonfly rut," but it's as good a reason as any!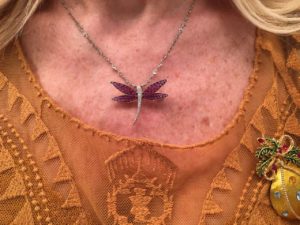 Catmom called this a terrible neck shot, as it was the chain she had with her, and her shirt didn't match, but I think it gives a lovely perspective to the size of the piece. This dragonfly may not be headed for a forever home as a pendant, but it is gorgeous as one! Yay for versatility! It's a graduated pink sapphire and diamond dragonfly in 18kt white gold! Congratulations on the addition to the collection, Catmom, it's stunning!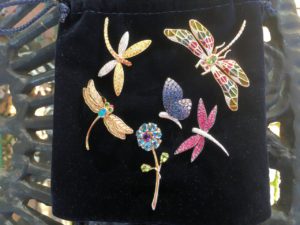 Go see the post with more pics!
The Jewel of the Week is our chance to feature and appreciate a recently posted piece from the Show Me the Bling Community!
Thank you so much for sharing your jewelry experiences with us. We look forward to seeing more!
#JOTW
Come show off YOUR fantastic bling with fellow jewelry lovers and trade professionals
A Study of Colored Stone and Diamond Cutting Angles