August Birthstone: Peridot
Four months, that's all we have left until 2019, but we're going to celebrate now because August is here. That means that we have a new, fabulous birthstone to spotlight this month. Right now we're all about the lime green peridot.
Outer Space Origins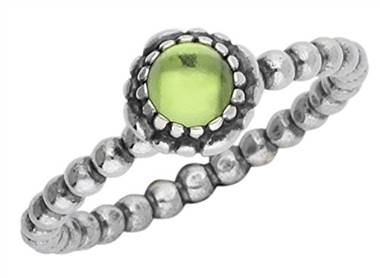 Silver peridot birthday blooms April Ring at Pandora

at Pandora Jewelry
August's birthstone is literally out of this world. Sure, you can find it far within the Earth's crust and lava, but did you know that your new favorite gemstone is also found in pallasite meteorites? Did you also know that those meteorites also contain traces of the Earth's birth? Now you can tell people that you're wearing part of our solar system whenever you wear this stone.
Perfect for Celebrations
Peridot cushion cut diamond gemstone pendant necklace set in 14K white gold

at B2C Jewels
If you have a 15th wedding anniversary then congratulations, you have another great reason to purchase peridot. It's the gemstone for 15th wedding anniversaries. It's been said to ward off evil and is a great stone to give you another blissfully happy 15 years with the one you love.
Hardness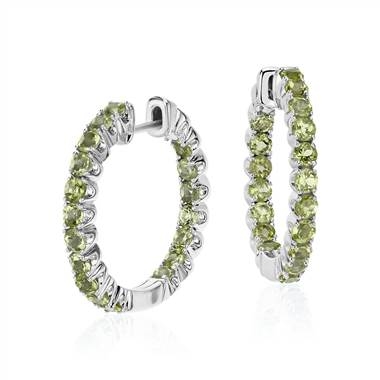 Peridot hoop earrings set in sterling silver

at Blue Nile
Peridot is a 6.5 – 7 on the Mohs scale. That means that although it isn't soft, it isn't the hardest, so care should be taken when worn. If your heart is set on a peridot ring, it is best to select one in a halo setting since it affords more protection than a peridot solitaire. Fortunately, you don't need to treat this stone with kid gloves, simply treat it well and you'll be able to enjoy it for decades to come.
Peridot is a yellow-green stunner that you can't help but notice. Its otherworldly origins make it the most intriguing gemstone. We hope to see more of you wearing this beauty whether you were born in August, married for 15 years or just because it's a Wednesday.

By PS Staff