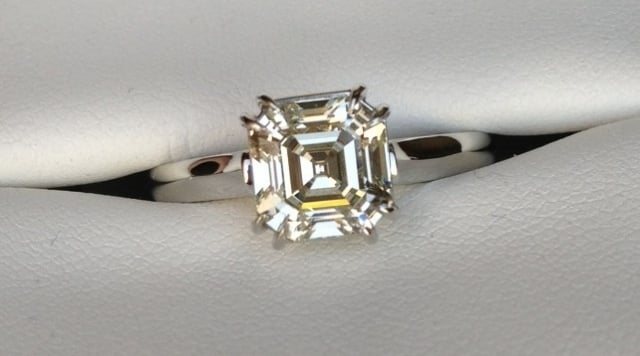 An Asscher Engagement for BriBee
BriBee shared with us her gorgeous Engagement Ring on the Show Me The Bling Community at PriceScope.com. BriBee's fiance proposed on her 30th birthday in Lake Tahoe! What a beautiful setting and her story is linked so that we can enjoy that vicariously as well!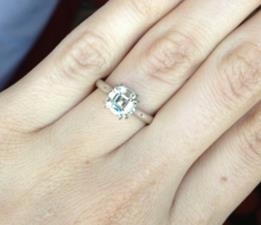 At home on her finger
Getting a gorgeous Asscher from Good Old Gold would make anyone smile! What a beautifully patterned stone, those steps are phenomenal. We hope that it has been worn in health and happiness for several years! Thank you for sharing this stunning ring, BriBee!
The Stats:
Asscher from GOG
1.72 ctw
Color: L
Clarity: VVS2
6.68 x 6.58 x 4.55
Polish: EX
Symm: EX
Depth: 69%
Table: 58%
Want to see more? See more pics and read the story here!
On Throwback Thursdays, we take the opportunity to re-appreciate beautiful pieces that have been shared over the years!
Thank you so much for sharing your jewelry experiences with us. Keep revisiting PriceScope's past with us each Thursday!
#TBT
Get some ideas for your own magical proposal read more about proposal ideas here.
Come show off YOUR fantastic bling with fellow jewelry lovers and trade professionals in the Show Me the Bling Community, here.