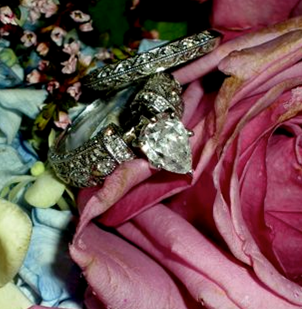 On Trend Antique Pear for DisneyBride828
DisneyBride828 shared this remarkable Pear Engagement Ring with us on the Show Me The Bling Community at PriceScope.com. Pear cut diamonds are in style right now, it cycles through as lots of fashion elements do. A gorgeous diamond, however, is always fabulous and on point!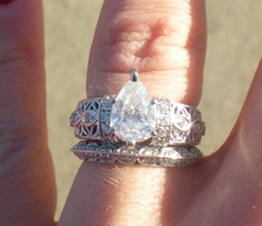 Gorgeous wedding set
It is incredible that DisneyBride828 found this engagement ring and this wedding band individually, they are not the same designer and were not purchased together. They work beautifully to create a marvelous and unique set! I love this look and I genuinely hope that it has been worn with love, health, and happiness for many years, and will be for many years more!
The Stats:
Antique Pear Cut Diamond
1.5 ctw center
Color: F
Clarity: SI1
in an antique 5/8 ct setting

Want to see the entire post with more pics? The bling is here!
On Throwback Thursdays, we take the opportunity to re-appreciate beautiful pieces that have been shared over the years!
Thank you so much for sharing your jewelry experiences with us. Keep revisiting PriceScope's past with us each Thursday!
#TBT
Diamond cut is a matter of taste learn more about pear cut diamonds here.
Come show off YOUR fantastic bling with fellow jewelry lovers and trade professionals in the Show Me the Bling Community, here.