Rock Walk Album
Drumroll please…Presenting the Rock Walk Album!
The album is ready! Huge thank you to the Pricescope community for contributing your wonderful photos!
Proceeds from album sales go to Diamond Development Initiative. DDI is a multi-stakeholder platform, which brings NGOs, governments, and the private sector together to address the livelihood and problems of artisanal diamond miners. DDI complements the Kimberley Process by focusing on creating sustainable economic development for millions of artisanal miners and their communities.
"Some ten million people depend on artisanal diamond mining for a livelihood. They work under difficult conditions and most earn less than a dollar a day. Many are children. We aim to change that and to show that diamonds can be a symbol not just of wealth, purity and love, but also of meaningful development for some of the world's poorest people." – Ian Smillie, Chair, DDI Board of Directors
For more information about DDI, please visit: www.ddiglobal.org and this Interview with Dorothee Gizenga, Executive Director of DDI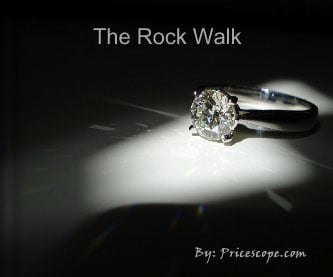 Rock Walk Album – Click Here to Get Your Copy!
Pricescope's Community Project
Last year we started our first community project, which included a vote for our chosen charity organization, DDI. The Pricescope community answered our call and contributed many gorgeous pictures for the Rock Walk Album. Click on the following links for pictures and information about the process. Pricescope's Community Project – The Rock Walk Album 2009 Update
Click here for other ways to contribute to Pricescope.