DIAMOND PRICE CHART FOR OLDMINER DIAMONDS: PRICES UPDATE MONTHLY
This oldminer diamond price chart shows changes in diamond prices over the past few years for different sizes.
The source is real live market data, as the prices of most of these diamonds are set by Business to Business listings with vendors typically adding 10% or less to the wholesale price. There are more than a dozen different vendors listing over 1,000,000+ diamonds on PriceScope.
OldMiner diamond price chart is updated monthly.
Shape: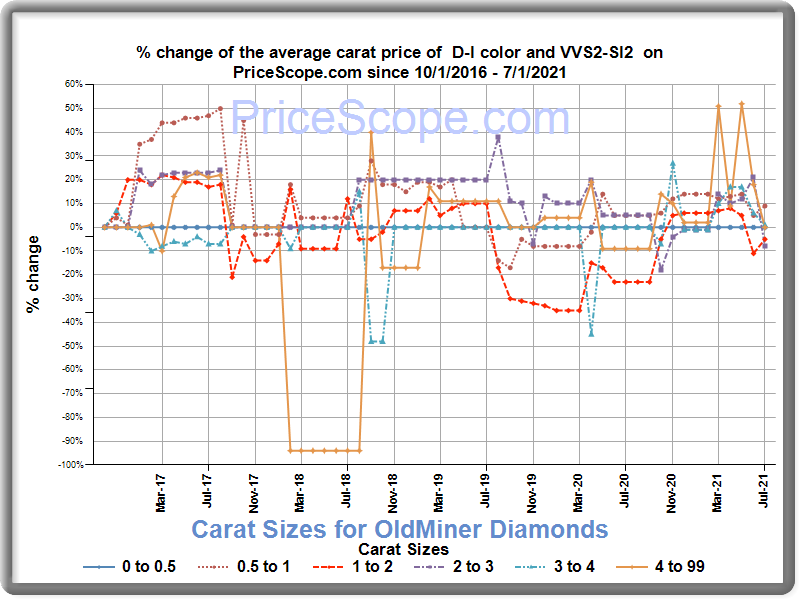 OldMiner Diamond Price Changes For The Last 3 months
Diamond Carat Sizes
0.0 - 0.5
0.5 - 1.0
1.0 - 2.0
2.0 - 3.0
3.0 - 4.0
4.0 - 99
Compare actual diamond prices listed by more than 12 different vendors
---
0.5 Carat diamonds
1 Carat diamonds
1.5 Carat diamonds
2 Carat diamonds
Click on the links above to compare diamond prices for different carat weights.
Below are some additional oldminer diamonds to compare in the 1 carat size for you convenience.
Search best diamonds from our vendors