Fri, 06 May 2011
Top Diamond and Jewelry Brands?
By
Erika W.
United Brands Lists Top 10 Diamond and Jewelry Brands
Care to rank a jewelry brand? United Brands has listed the highest ranking jewelry brands "based on a variety of factors that include product quality, design, performance, value, consumer recognition, brand differentiation and marketing effectiveness." How would you rank these brands? Which brands would you omit or include in the following categories?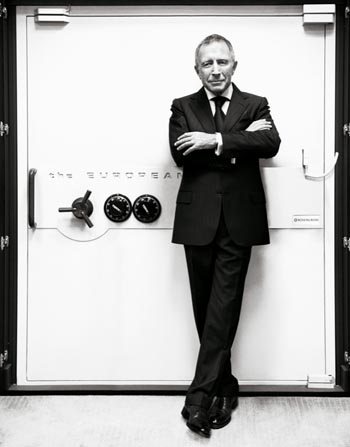 Laurence Graff (Photo: David Burton)

United Brands has named Graff the top premium luxury brand.
Top 10 Jewelry Brands - Premium Luxury
1. Graff
2. Cartier
3. Harry Winston
4. Van Cleef & Arpels
5. Chopard
6. Fred Leighton
7. Piaget
8. Boucheron
9. BVLGARI
10. David Webb
Top 10 Jewelry Brands - Luxury
1. Cartier
2. Tiffany & Co.
3. Chopard
4. Carrera y Carrera
5. Mikimoto
6. Damiani
7. Buccellati
8. Chaumet
9. Piero Milano
10. de Grisogono
Top 10 Jewelry Brands - Bridal Design
1. Neil Lane
2. Tacori
3. Simon G
4. Christopher Design
5. Scott K
6. Ritani
7. Verragio
8. Michael Beaudry
9. Jeff Cooper
10. A. Jaffe
Top 10 Jewelry Designers
1. Neil Lane
2. Stephen Webster
3. Erica Courtney
4. Solange Azagury-Partridge
5. Martin Katz
6. Alan Friedman
7. Loree Rodkin
8. Lamont
9. Judy Evans
10. Stefan Hafner
Top 10 Jewelry Brands - Important Diamonds
1. Graff
2. Harry Winston
3. Cartier
4. Tiffany & Co.
5. Leviev
6. DeBeers
7. Pluczenik
8. Dehres
9. Steinmetz
10. Mouawad
Related Topics:

List the 3 best jewelry houses

Top 10 Jewelry Brands - Do you agree?

What brand name items do you consider status symbols?

Brand name value in the long run
Discuss jewelry brands on the forum