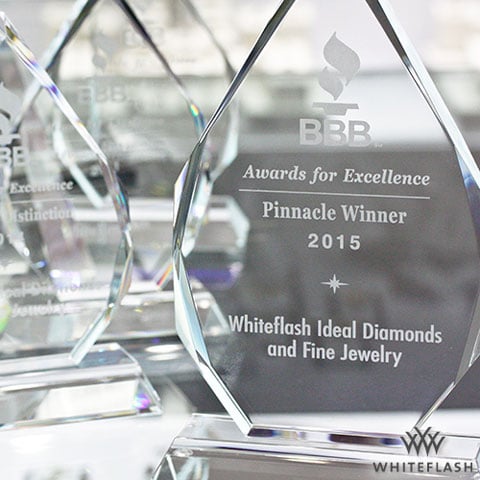 We're proud of one of our sponsors, Whiteflash, for becoming one of the premier diamond and fine jewelry retailers in the country. Their commitment to excellence has not gone unnoticed and as a result, the company just received the 2015 Pinnacle Award from the Better Business Bureau (BBB). It is the second time in the last 4 years (2012) that they have won this prestigious honor.
Click here to read the full press release.
The Houston jeweler operates in the fourth largest market in the United States and the accolades keep coming. Prior to receiving the Pinnacle Award, it won the 'Winner of Distinction' Award from the BBB for six years in a row. Quite a feat as the company faces stiff competition to come away the winner multiple years in a row.
Yet, the company does not use their awards to rest on their laurels. In the spirit of striving to rise head and shoulders above all other jewelry retailers, Whiteflash set out to receive an American Gem Society (AGS) membership. Membership in the AGS is highly selective and is not an easy feat. Members must meet stringent criteria to be considered for membership and the process can take months to well over a year to be approved.
Their numerous awards and prestigious AGS membership is only the beginning for the company. Whiteflash has published multiple articles on research in addition to collaborating with others to educating the public. Their devotion to education carries over into excellent customer service. Their impeccable eye for detail and customer service has garnered them attention in the domestic and international jewelry markets as the "best of the best". Furthermore, they specialize in ideal-cut diamonds and are authorized distributors of designer engagement ring from all of the top brands.
It doesn't just end there however. Their ultra precision, A CUT ABOVE ® Super Ideal Diamonds, are recognized internationally for their superior qualities and beauty. Their dedication to the craft is heralded by becoming the first jewelry retailer in the world to attain ISO 9001 certification for total quality management. Whiteflash goes above and beyond for their clients and excellence and we think it is clear to see how they have risen to the top of the jewelry market by continuing to strive for excellence.
CONGRATULATIONS!