We have talked extensively about stunning center stones with halo settings and the like, but I feel we have neglected what makes some engagement rings stand out. The side stones! Much like a delicious meal isn't complete without some delicious sides, so too are many of this season's popular engagement ring styles.
So, come join us as we take a look at some of our favorite side stone settings.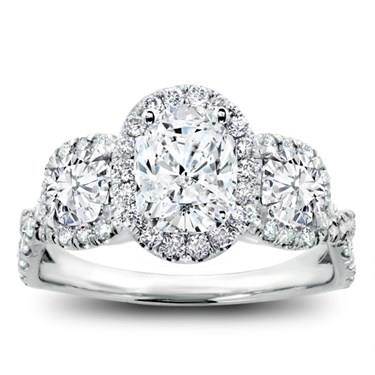 Halo settings are now enshrined in the engagement ring hall of fame as a classic look. As a result, we can't deny the power that three halos have compared to one. We chose this as an exemplary example of a three stone, halo setting where the side stones look just as amazing as the center stone.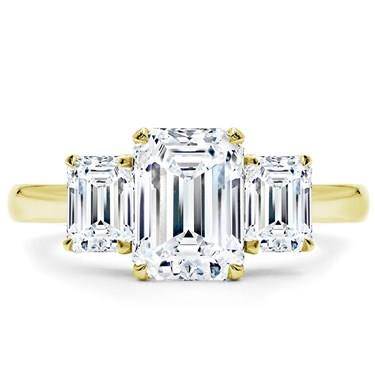 Halo settings are wonderfully beautiful, but some brides just want their rings straight with no chaser. If this sounds like you, then a three stone setting showcasing the center and side stones is just for you. This look offers plenty of opportunities to have unfettered access to three beautiful stones and we think you should stare as long as you want.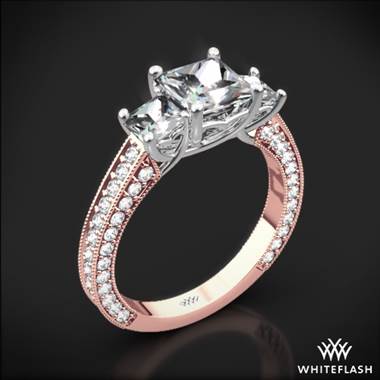 Side stones are wonderful, especially when they come with a little extra dazzle. That is in the case with this ring, which pairs its side stones with a blinged out pave band. This just goes to show you that you don't have to have massive diamonds to bring the bling!
Side stones are an ideal accompaniment for brides wanting a bit more sparkle and more diamonds. Let's be real here, can you ever go wrong when you add more diamonds?

By PS Staff