Distracts posted this phenomenally beautiful Paraiba in rose cut halo ring on the Show Me the Bling forum at PriceScope.  I can't stop looking at it, it's so pretty! I am head over heals for the color and shapes in this stunner. TDF!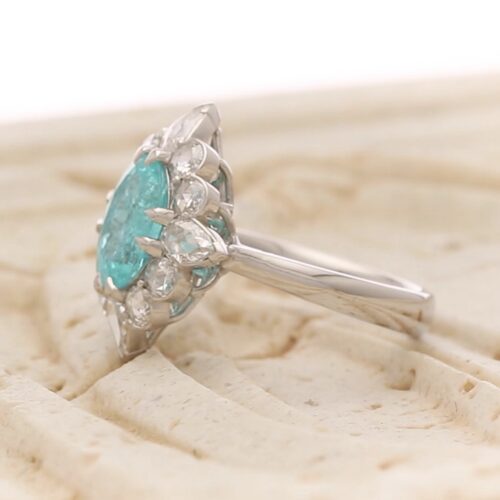 Distracts set out to create a huge tsavorite piece, but fortuitously stumbled across this Paraiba tourmaline. This color is unreal, I love a pop of color as many of you know, but this is WHOA. After distracts viewed the stone in person and knew it was "the one," it was off to David Klass with her sketches for the halo setting that would put this ring on a whole new level.
I am living for this, really it's stunning! Congratulations! Oh, friends…the pictures, so many fabulous pictures! Go enjoy the amazing tourmaline eye candy! Elle_71125, you were exactly right!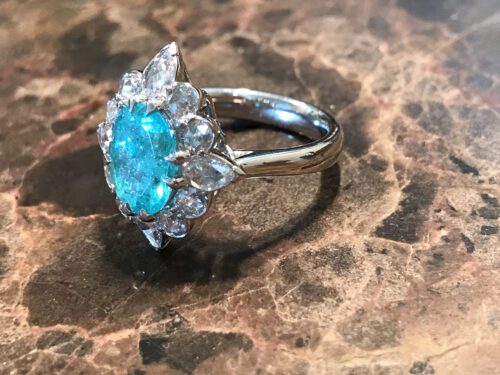 The Stats:
Paraiba tourmaline from Cecile Raley Designs
2.25 cts
9.8 x 7.4 mm
Rose-cut halo ring in platinum by David Klass
.79 cts of diamonds
Visit the original post with more pics and join me in congratulating distracts!
The Jewel of the Week is our chance to feature and appreciate a recently posted piece from the Show Me the Bling Community!
Thank you so much for sharing your jewelry experiences with us. We look forward to seeing more!
#JOTW
Come show off YOUR fantastic bling with fellow jewelry lovers and trade professionals
Learn more about Ideal-Scopes on PriceScope!