By Erika W.


Valentine's Day Gift Ideas for your Sweetheart
Valentine's Day is a month away, so it's time to start planning! Whether you are looking for true vintage, antique, or vintage-inspired jewelry, Valentine's Day is the perfect occasion for a romantic gift with old world charm. Visit our Timeless Classics Forum for pictures and information about vintage and antique jewelry pieces. Thanks everyone for sharing your wonderful jewels from the past!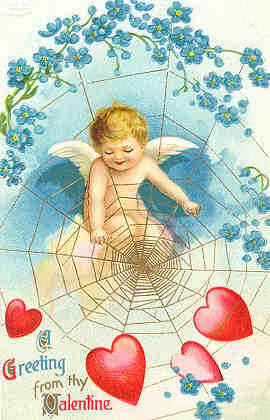 Vintage Diamond Ring
Mrs. H's vintage diamond three stone ring features intricate filligree and approximately 2 carats total of old European cut diamonds. Old European cuts are known for their tall crowns, small tables and large culet facets. For more pictures and information about old cut diamonds please visit: Old Cut Lovers…… please sign in!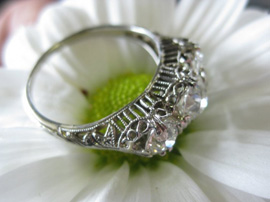 Posted by Mrs.H.
new vintage 3 stone euro cut diamond ring
Engraved Gold Locket
A Victorian style gold locket with floral engraving is delicate and unusual. This revolving locket can be engraved with your initials on one side.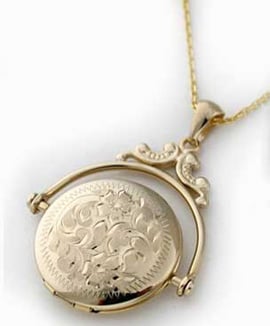 "Elizabeth" Revolving Locket
Heartsmith
Vintage Charm Bracelet
A charm bracelet is a gift that keeps on giving, as charms can be added over many years. Celebrate future births, anniversaries, and romantic occasions with personal charms. Fafa's vintage 18k gold bracelet holds mechanical charms with moving parts. Charming!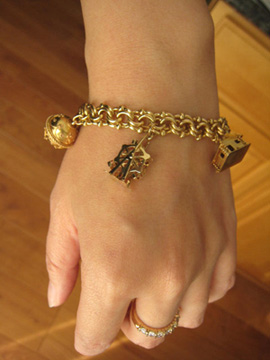 Posted by fafa
My Vintage Charm Bracelet
Art Deco Diamond Earrings
These diamond drop earrings feature 3.12ctw of old mine cut and single cut diamonds. The geometric and linear shapes of the Art Deco period started emerging in jewelry circa 1910 and flourished in the 1920s.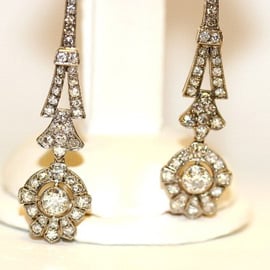 Platinum & 18k Diamond Earrings
Good Old Gold
Vintage Diamond Watch
A vintage diamond watch is a lovely way to mark this Valentine's Day. Hudson_Hawk's Hamilton watch has a platinum and diamond case with graceful detail.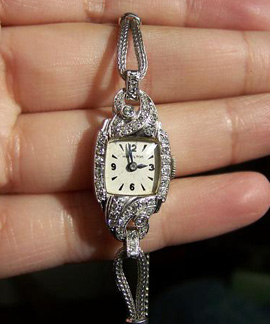 Posted by Hudson_Hawk
my valentines day watch
Men's Pocket Watch
Looking for a romantic vintage piece for the man in your life? A vintage pocket watch may be the perfect gift. The watch below is a vintage E. Howard & Co. circa 1920.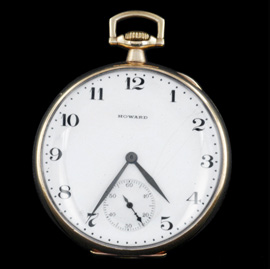 E. Howard & Co. Boston – Pocket Watch
Pearlman's
More Valentine's Day Gift Ideas:
Locked into Love – Valentine Jewels
Hearts Nouveau – Valentine Jewelry
Romantic Rose Gold for Valentine's Day
Related Discussions:
Show us your Traditional Charm Bracelets….
Good online vendors for vintage watches?

Anybody know where I can find lockets?
How / Where to find out more about antique jewelry / stones
Share your Vintage Jewelry! Show Me the Bling!