By Erika W.
Fabulous Jewelry Shared by Pricescope Members
This week's featured jewels are three stunning colored stone rings posted by Chrono. Thanks everyone for sharing your gorgeous jewelry in the Show Me the Bling forum!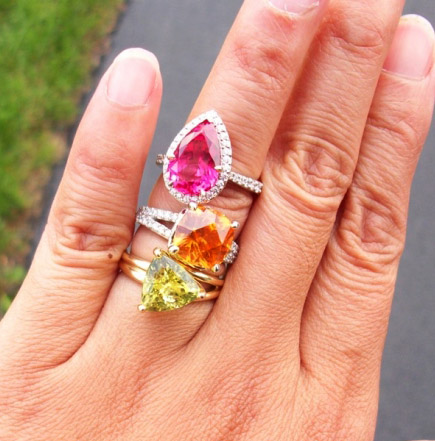 Posted by Chrono
Mmmm gem candy. Chrono's trio of rings include a 4.85 ct Mahenge spinel, a 5.02 ct Loliondo spessartite garnet, and a 3.7 ct chrysoberyl. Custom platinum and diamond settings were created for the spinel and spessartite garnet, and an 18k yellow gold setting was designed for the yellowish green chrysoberyl.
Learn more about Chrono's rings: Trio of Whiteflash Coloured Stone Rings a la Traffic Lights?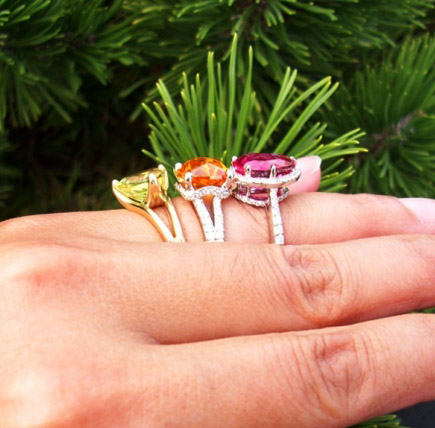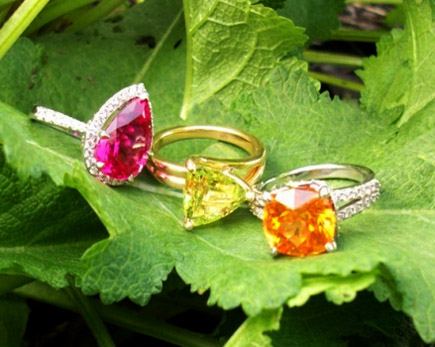 Lovely variety–thanks for sharing Chrono!
Related topics:
5 ct neon red Mahenge spinel in Whiteflash halo

Mahenge Spinel ring makes debut in Wedding Magazine
Trillion Chrysoberyl from WF is ready!

WF does it again: 5 ct Spess reset

Learn more about spinel, spessartite garnet, and chrysoberyl on our Colored Stones forum.