By Erika W.

Fabulous Jewelry Shared by Pricescope Members
This week's jewel is a set of cabochon tanzanite, tsavorite, tourmaline, and diamond stacking rings posted by Burberrygirl. Thanks everyone for posting your gorgeous jewelry in the Show Me the Bling and Colored Stones forums!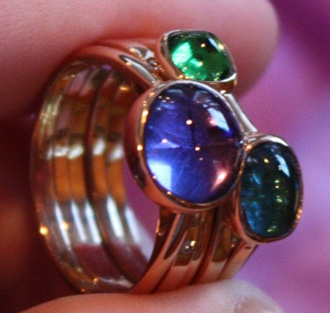 Posted by Burberrygirl
Tanzanite, Tsavorite, and Tourmaline Cab Rings by JKT
Burberrygirl's colorful set of stacking rings features a 5.31ct tanzanite, a 1.35ct tsavorite garnet, a 1.93ct indicolite tourmaline, and two burnished set diamond bands. All rings are rose gold and complement each other beautifully.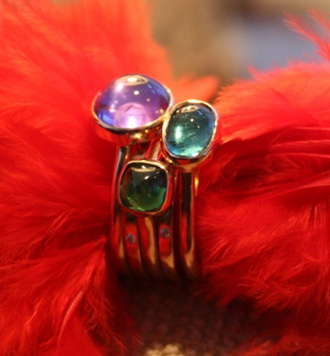 Posted by Burberrygirl
Bezel set cabochon rings are perfect for stacking. The flush-set diamond bands add space and versatility.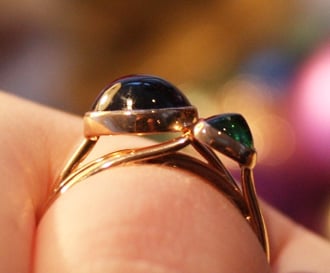 Posted by Burberrygirl
Stackable rings can be mixed and matched. Each combination creates a different look.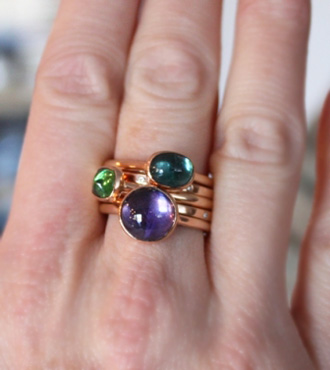 Posted by Burberrygirl
Smooth bezels and candy like gems catch the light and look great on the hand.
Related Threads:
Colored Stone E-rings/Eyecandy
Show me your wraps/mutliple stacked rings!
Finally, my sugarloaves rings are here!
Share your Rings! Show Me the Ring!