Bipartisan support for federal Internet sales tax legislation marks a bold political shift. The Wall Street Journal's Monica Langley reported that "both parties are attempting to speed up action on a bill they wrote to give states authority to compel online companies to collect sales taxes." The legislation would result in a more expensive online shopping experience for consumers but would potentially benefit cash-strapped states with an estimated $23 billion in revenue.
JCK's Rob Bates puts it this way, "This legislation arguably doesn't invent a new levy; it just regulates one that's almost never collected. (Yes, you are supposed to list all your online purchases on your income taxes. No, I haven't spoken to any person who's ever done this.)"
Online diamond and jewelry shoppers, what do you think of the Internet tax legislation? Share on the Forum.
Read some of the latest stories on the impending Internet sales tax in the following articles.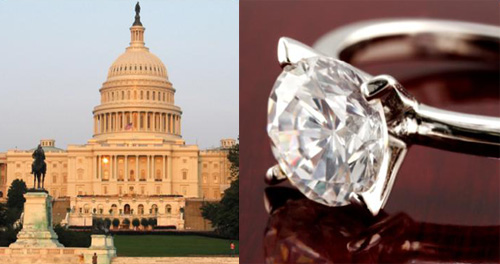 Images: Jewelers of America
Jewelers of America supports passage of sales tax fairness legislation. Visit JA to learn more.
JCK News: Internet Sales Tax Law May Pass Soon
Passage of a law that would require e-tailers to collect sales tax appears increasingly likely, according to Jewelers of America's legislative counsel.
JCK Blogs: What Will an Online Sales Tax Mean for Jewelers?
Most smart dot-coms have likely already realized that someday they will be required to collect sales taxes. But based on what Jewelers of America's legislative counsel said this week, that day may be coming quicker than most expect.
The Wall Street Journal: Tax Break Nears End For Online Shoppers
Republican governors, eager for new revenue to ease budget strains, are dropping their longtime opposition to imposing sales taxes on online purchases, a significant political shift that could soon bring an end to tax-free sales on the Internet.
MSNBC: Taxing online sales could change buying behavior
A push by state and federal lawmakers plus online retail giant Amazon.com to collect sales tax on online purchases could help brick and mortar retailers who complain they lose sales to tax-free online competitors, provided beleaguered consumers don't view this as the last straw and stay out of stores entirely.
Related Topics:
The Internet and Sales Tax – A Free Ride or Not?


Sales Tax when Buying Out of State (New York)