The Emmy Awards were last weekend and all you need to know is that it's time for you to dust off your chandelier and drop earrings because it's all about them right now. Earrings played a large part in the night's looks and we are thrilled.
This look works for everyone because it's all about proportions. The red carpet showcased all manners of earrings, but one thing which was certain is that the most on-trend looks are drop or chandelier earrings.
We love that this year's earring style is universally flattering as it leaves room for you to find the most flattering length for your face shape. I know I'm personally thrilled as I'm a fan of putting on a pair of statement earrings and a red lip to draw attention from the fact that I didn't get a full eight hours of sleep the night before.
Furthermore, this is an excellent day to night look depending on the materials used and I can attest to the ease at which a pair of statement earrings can make the transition with a quick lipstick and hair change. Trust me, they've helped me out on more than one occasion!
We've compiled three looks inspired by the Emmy Awards to help you navigate this look and make it yours.
Day Option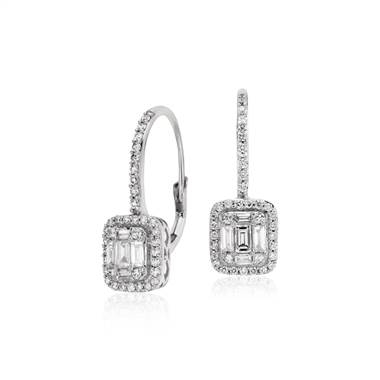 Baguette diamond lever back drop earringsset in 18K white gold at Blue Nile
Diamonds for day? Why yes of course! These diamond earrings are great for daytime look as they offer just the right amount of sparkle to work with a pair of jeans or cocktail dress.
Day to Night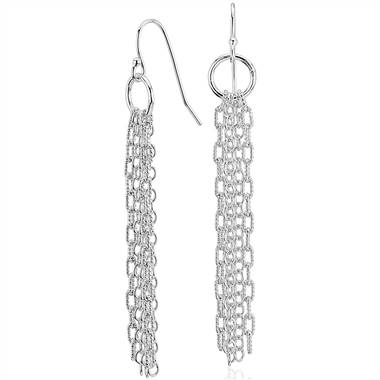 Fringe chandelier drop earrings set in sterling silver /a> at
Blue Nile
You know how the weather gets nasty and humid which causes you to pull your hair back into a sleek chignon to avoid any weather-related hair mishaps? Well, then this is the earring for you. This length keeps the focus on your face and can take you to after-work drinks and beyond.
Night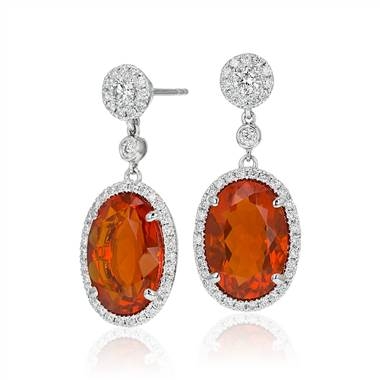 Fire opal and diamond drop earrings set in 18K white gold/a> at
Blue Nile
When you need to pack a punch, this is your earring. The opal rich orange hue surrounded by white diamonds enables this earring to be universally flattering on all skin tones. Furthermore, the gemstone center makes this stone one of the trendiest looks you can buy this season.
We got lucky this year as the Emmy Awards highlighted looks which translate well into the mass market. You don't have to spend a lot of money to look red carpet (or sidewalk) ready. Just find an excellent pair of drop or chandelier earrings and you'll be on your way!