Emeraldsaremyfavorite really lived up to that screen name when she shared her extraordinary Emerald Cut Diamond Engagement Ring Upgrade. When this stunning ring showed up on the Show Me the Bling Forum, it was hard to take my eyes off of it! An Ering Upgrade is such an exciting process, the love grows and sometimes the ring does too!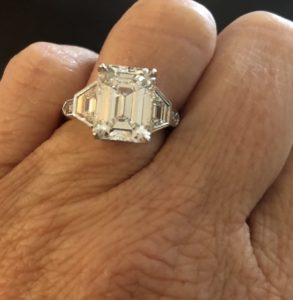 Emeraldsaremyfavorite originally had an oval cut diamond ring when she first agreed to be a bride. The second ring was true to her name and a 3.01 ct Emerald Cut that she experienced DSS with. This stunner is ring number 3, and may the third time be the charm, it is certainly charming. The diamond upgrade came from ID Jewelry and that experience was fabulous! Mark Broumand created the setting and did the bench work resulting in this fabulous piece!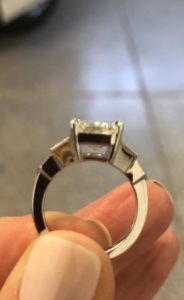 The Stats:
Emerald Cut – 3.56 CT
Table-69%
Depth- 59.1%
VG/VG
Color: I
Clarity: VS2- 100% eye clean.
10.46 x 8.04- 1:3 ratio
Go see the post with more pics!
The Jewel of the Week is our chance to feature and appreciate a recently posted piece from the Show Me the Bling Community!
Thank you so much for sharing your jewelry experiences with us. We look forward to seeing more!
#JOTW
Do you know your basic engagement ring anatomy?
Come show off YOUR fantastic bling with fellow jewelry lovers and trade professionals