Paisley2628 posted this sensational spinel and diamond ring on the Show Me the Bling forum at PriceScope.  She said she had no one to share this gorgeousness with, so let's show her the love! That color is divine!
This ring was purchased as a spinel (12 x8 ) and has fourteen .08 old mine/European cut diamonds in the halo set in 14k yellow gold. She was unsure of the history of the ring, but fully appreciated it's appearance and sparkle.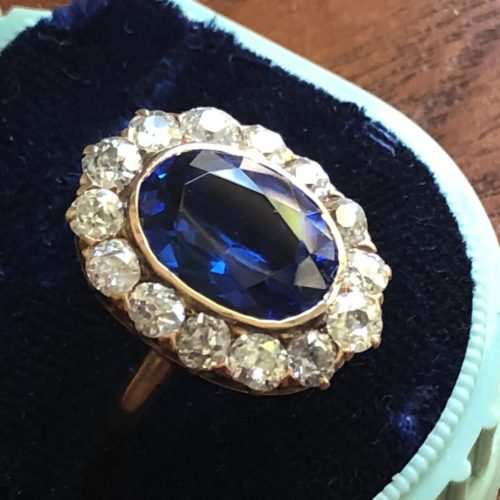 Paisley2628 said:
"Just for my curiosity, I took the ring to an estate jeweler. The owner gave his opinion on the ring. He said it is all original and dates to turn of the twentieth century. He believes that it is a synthetic spinel. Asking what I paid, he said that if he purchased at wholesale, it would have been three times what I spent- so, of course, I was happy to hear that."
Visit the original post with more pics and join me in congratulating Paisley2628
Your PriceScope family is always here to appreciate your jewelry with you! We are so happy for you, kudos on a stellar new addition! Those diamonds are a perfect frame for that bright blue pop of beauty! It's a rare thing that I would choose a synthetic stone, just because we are often so focused on the stats, but the synthetics from this time period are highly valued and high quality. The ring is marvelous!
The Jewel of the Week is our chance to feature and appreciate a recently posted piece from the Show Me the Bling Community!
Thank you so much for sharing your jewelry experiences with us. We look forward to seeing more!
#JOTW
Come show off YOUR fantastic bling with fellow jewelry lovers and trade professionals
Learn more about Ideal-Scopes on PriceScope!