Sparkle Blinded originally posted her AVC with Pink Diamond Halo Engagement Ring on the Show Me the Bling forum at PriceScope.  This is so lovely and just reads as super feminine. The halo makes that AVC look far bigger and the finished product is divine!
The color use on this ring is glorious! It's an August Vintage Cushion from Good Old Gold, set by Leon Mege and Sparkle Blinded's fiancé reported that both were great to work with (as usual!) The use of rose gold under the pink diamonds is stunning, I am floored by how big this diamond looks! I absolutely hope that this beauty has been worn in love, health, and joy for years now!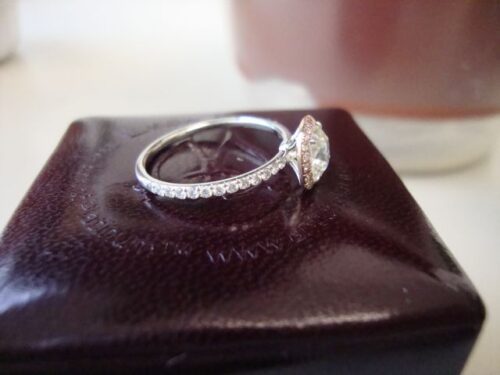 The Stats:
Stone Stats (August Vintage Cushion)
.83 ct (can you even believe it is under 1 ct!)
Color: K
Clarity: VS2
Size 6
Rose gold w/ pink diamond halo & platinum.
Visit the original post with more pics and join me in congratulating Sparkle Blinded!
On Throwback Thursdays, we celebrate beautiful pieces that have been shared over the years!
Thank you so much for sharing your jewelry experiences with us. Keep revisiting PriceScope's past with us each Thursday!
#TBT
Come show off YOUR fantastic bling with fellow jewelry lovers and trade professionals
Learn more about engagement ring mount styles from PriceScope