Elliefire99 posted this stunning AVC and Kornerupine engagement ring on the Show Me the Bling Forum at PriceScope. This ring is a custom AVC and Kornerupine creation with a fabulous unique look. Creating something that is one of a kind is such a lovely way to honor your one of a kind love story.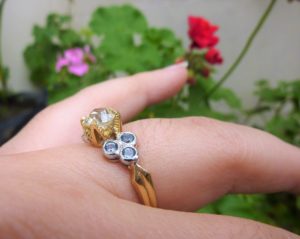 Elliefire99 had started the ring shopping process when she found PriceScope and, as many do, got hooked. She thanks so many fellow PriceScopers for adding their influence to her finished piece. For a new member, she has been very active and we are so glad that she has found her way to us! This AVC ring was created, inspired by Elliefire99's sketches, by Heart of Water. HoW creates truly spectacular pieces, the design work is tremendous!
The Stats:
1.01 N AVC, kite set in a beautifully hand-forged 18k yg and 14k wg setting by Sally and Pomme at HoW. Flanked by little blue-purple-green kornerupines (Loupe Troop!).
On a size 7.5-8 finger for proportions
Congratulations on your engagement, and for your incredible ring! Thank you so much for sharing it with us!
Go see the post with more pics!
The Jewel of the Week is our chance to feature and appreciate a recently posted piece from the Show Me the Bling Community!
Thank you so much for sharing your jewelry experiences with us. We look forward to seeing more!
#JOTW
Come show off YOUR fantastic bling with fellow jewelry lovers and trade professionals
Show off your Antique/Retro or Reproduction Rings!