NKOTB posted this big pop of pink Tajik spinel on the Show Me the Bling forum at PriceScope! I don't know what it looks like where you are, but through my windows it has been endless grey for what seems like a really long time. I needed this bright pink blast in my day, we need some Spring colors in our lives!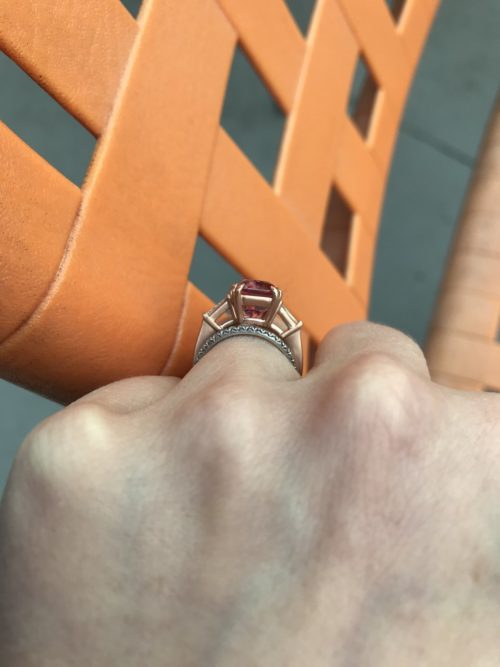 NKOTB's husband showed that he had the right stuff when he agreed to have this glamorous spinel set to celebrate her birthday. I'll go out on a limb and say that He'll be loving you, forever.  Ok, I am done with the New Kids references, but I had to give a little throwback love for them 😉 NKOTB had this spinel and had been waiting on a setting, it was ready for a forever home, and this is a glorious one!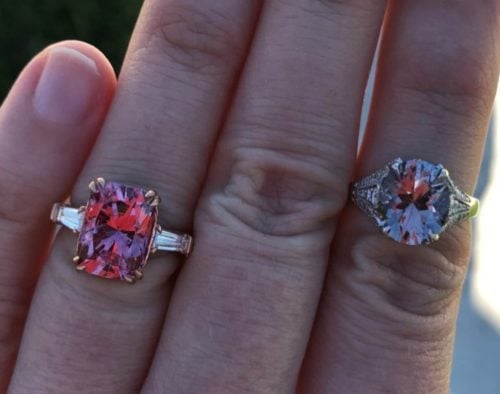 Congratulations on this fab finished project, and we wish you the happiest of birthdays!
The Stats:
5 ct Tajik spinel
14k brushed rose gold setting
with .39 ctw G VS tapered baguettes
Go visit the post, see more pics, and join me in congratulating NKOTB!
The Jewel of the Week is our chance to feature and appreciate a recently posted piece from the Show Me the Bling Community!
Thank you so much for sharing your jewelry experiences with us. We look forward to seeing more!
#JOTW
Come show off YOUR fantastic bling with fellow jewelry lovers and trade professionals
Come join in the Colored Gemstones discussion on PriceScope!