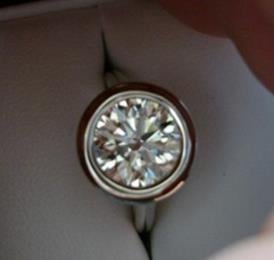 Uniquely Beautiful Diamond Solitaire for 3hearts
3hearts shared with us her amazing ring on the Show Me The Bling Community at PriceScope.com. Be still my heart! This ring is just stunning, I absolutely love the unique look! The setting is creative and understated, allowing that diamond to sing!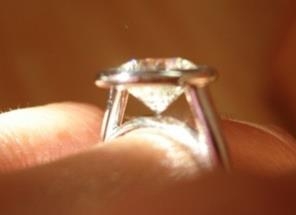 Flirting With the Light
3 hearts considered canceling the order on this setting, because she wasn't sure it was going to be what she wanted. She was elated with the final product, and I can not blame her! Whiteflash really nailed it, as usual! 3hearts, I hope this ring has brought you years of joy, even if your daughter did say it looked like a UFO landing on your finger! We should all find the diamond bearing UFOs!
The Stats:
Whiteflash ES selection:
AGS-7238904
Carat: 2.510
Color: K
Clarity: VS2
Fluorescence: Negligible
Want to see the entire post with more pics? Follow this link!
On Throwback Thursdays, we take the opportunity to re-appreciate beautiful pieces that have been shared over the years!
Thank you so much for sharing your jewelry experiences with us. Keep revisiting PriceScope's past with us each Thursday!
#TBT
Diamond color can drastically change the appearance of a stone learn more about diamond color here.
Come show off YOUR fantastic bling with fellow jewelry lovers and trade professionals in the Show Me the Bling Community, here.