Christy-Danielle posted pics of her unbelievable OEC upgrade on the Show Me the Bling forum at PriceScope! This stunner is a mind-blowing N, can you even believe it? What is your favorite part of this gorgeous ring? Come let us know on the forums at PriceScope!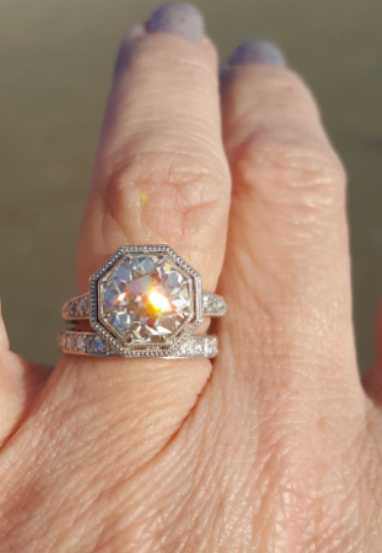 Christy-Danielle fell in love with OECs a few years ago and last year her DH kicked off the discussion of shopping for a new diamond! What PriceScoper doesn't love the chance to do some serious diamond shopping! Christy-Danielle was looking for a soft warm colored diamond and found an OEC with a gorgeous color and incredible facets. The OEC upgrade was sourced by Alex Parks and the ring was crafted by Amy at David Klass. Fabulous! Congratulations on the 25th anniversary as well!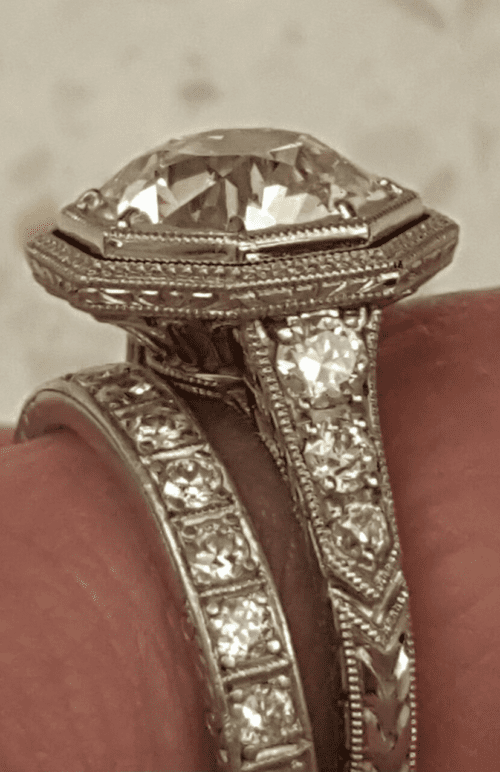 There are more pics and more backstory on the original post, it's absolutely worth the read. What is your favorite aspect of this ring? Come let us know on the forum!
The Stats:
GIA 3.51ct OEC
Color: N
Clarity: Si1
9.31×9.35, 49%table, 65.4% depth
Visit the original post with more pics and join me in congratulating Christy-Danielle on this fabulous OEC upgrade!
The Jewel of the Week is our chance to feature and appreciate a recently posted piece from the Show Me the Bling Community!
Thank you so much for sharing your jewelry experiences with us. We look forward to seeing more!
#JOTW
Come show off YOUR fantastic bling with fellow jewelry lovers and trade professionals
Learn more about Ideal-Scopes on PriceScope!